Qingtai Village, Jing Dingxia, (72) years with his wife Zhao Nunu, (68)
Their grandson Baoyu is currently studying business English in Lanzhou and would like to go on studying for a masters degree which would enable him to find work in a big city but they want him to come back and work for the local government.
A new village is being built down by the road. They have already put down 5000 RMB (800 USD) to reserve a plot of land but can't afford the 200 000 (32,000 USD) necessary to build a house on it.
Behind them Jing and Zhao have used a poster from the State Grid explaining basic safety rules when dealing with electricity, to cover the walls. Newspapers, advertising or propaganda posters are often used like this as both decoration and thermal insulators.
Inside the home of Jing and Zhao. A photo of their grandson Baoyu with his grand father is placed against the mirror.
Jinshan Village
Chen Xiuling (32) years old with her two children He Yawen (9)
and He Guanghui (6)
Chen's husband is a migrant worker in the South of Gansu 4 hours by bus from the family home. He sets up electric lines in the countryside and comes back home every two months.
They built a new house a year ago. She says the old house was warmer (the old house was made of adobe while the new one has concrete floors and walls) but she is still happy with the new one. The construction of the house is not finished so for now they are living in the smaller room.
She met her husband in Lanzhou (the capital city of Gansu province) where they were both migrant workers. She subsequently moved to her husband's village where she is taking care of their children.
Embroidery made by Chen on fabric covering the couch.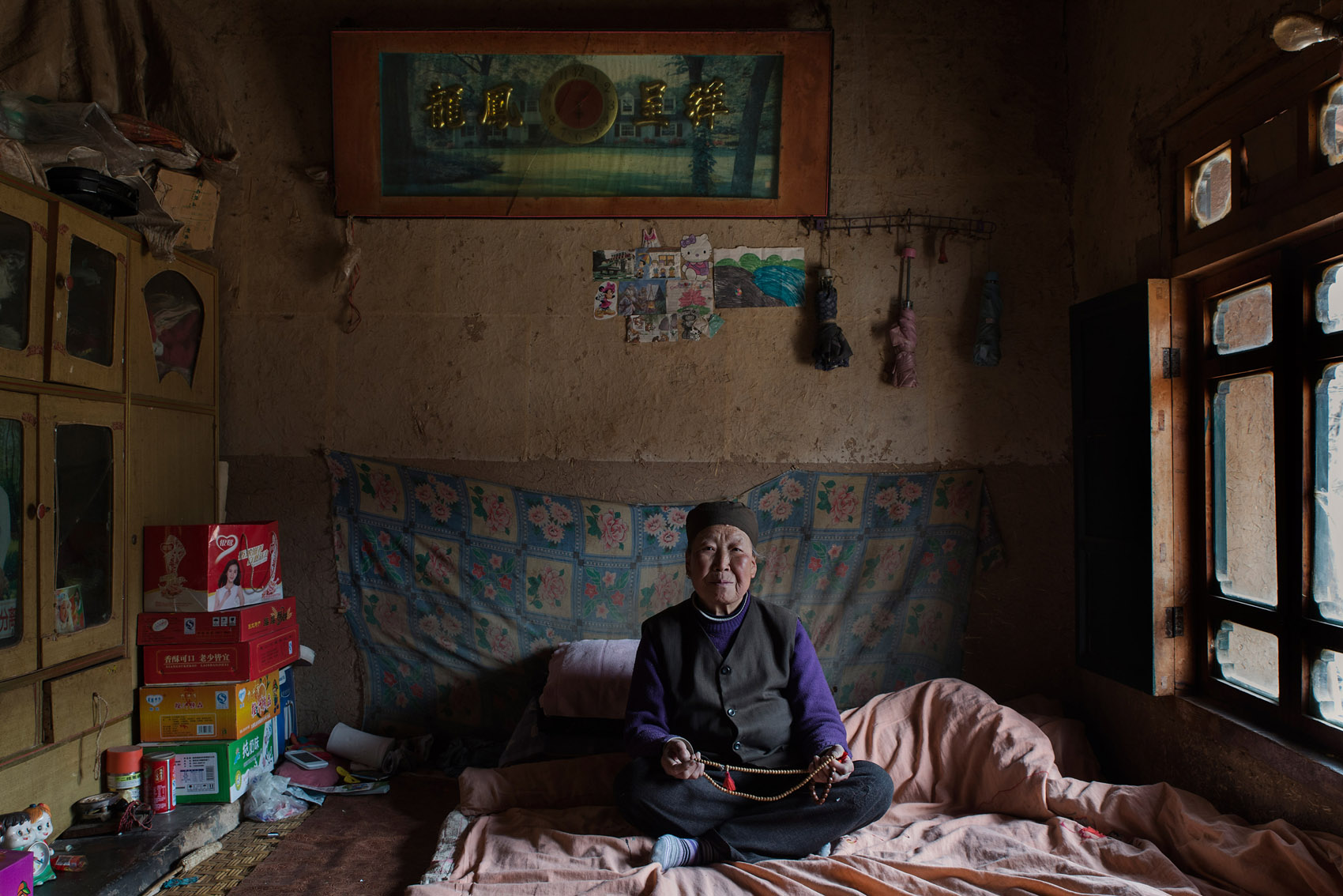 Baijiawan village
73 years old An Shoujia. An is a strong believer in Buddha and thinks he is helping her with her ailments (back pain). Her husband was working in the fields when this picture was taken.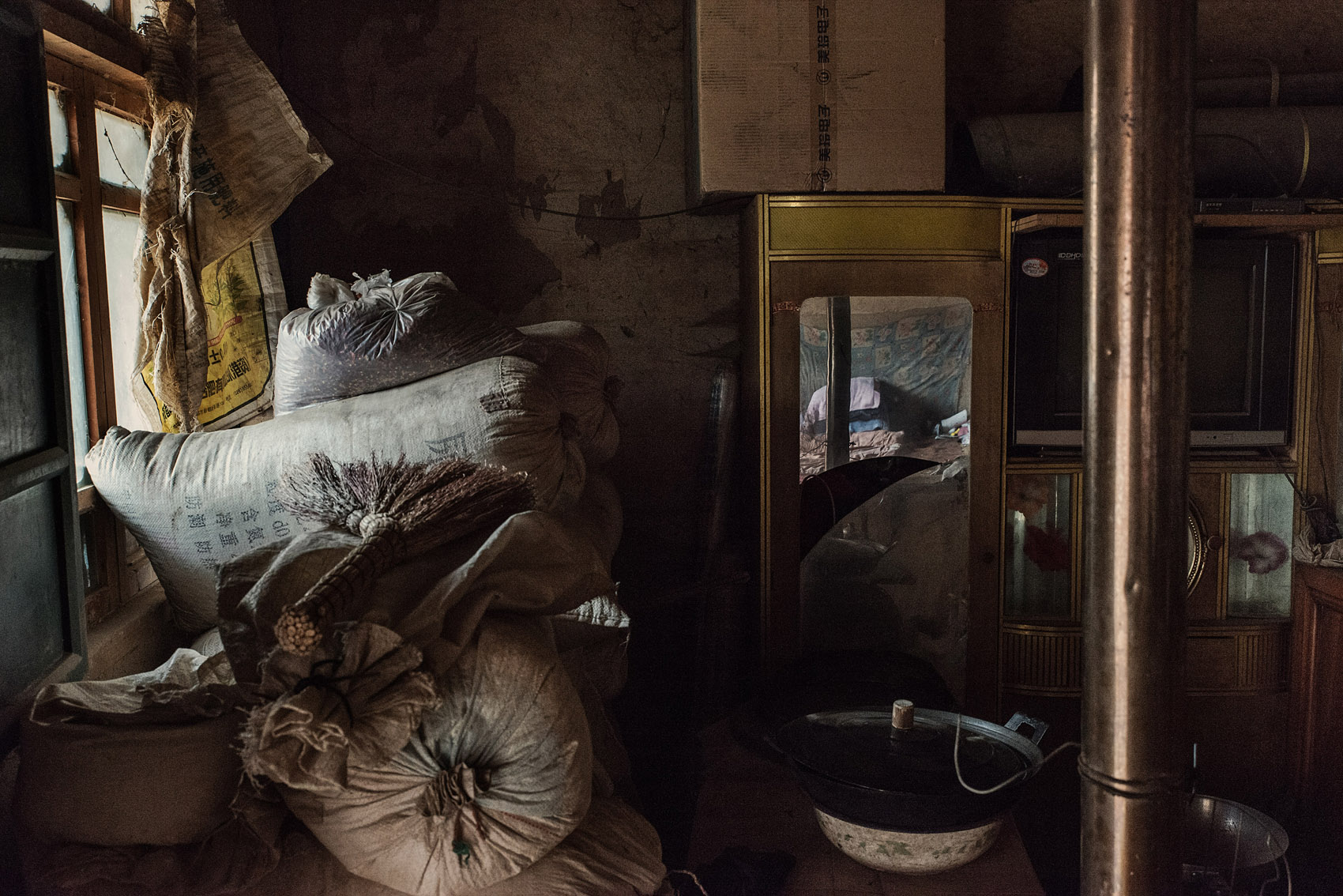 Across from An's kang, bags of grains have been stocked.
Xincheng Village
Fu Wenbin (15) on the kang he shares with his dad Fu Decang, (50) Wenbin was mostly brought up by his grandmother, as his father spent 5 years in prison. The grandma passed away when he came out, two years ago.
Wenbin will be entering middle school next year and would like to go on to high school if he can, but his father wants him to find a job.
A wall inside the home of Fu Decang.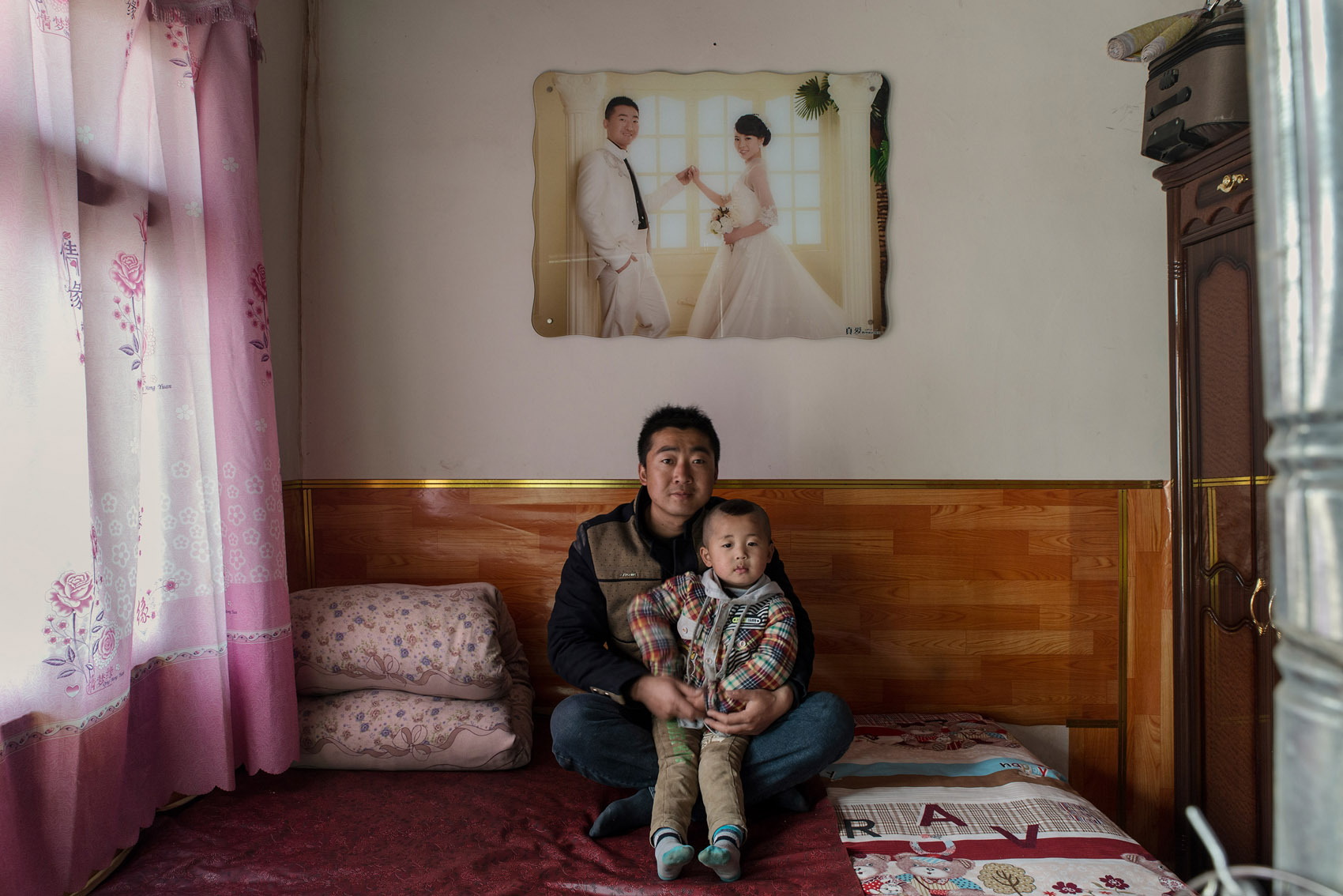 Anyuan Village
32 years old Niu Binggui, with his three years old son Niu Haoran
Niu Binggui is a cook for a construction company in Ningxia province several hundred kilometers away from the family hometown. He is now is own boss in charge of the catering for a construction site. It means a little more money but also more responsibilities. For 10 years he has been working as a cook in restaurants and dreams of opening his own, but lacks the funds to do so.
In two day he will be leaving for work at the end of his new year break. He won't see his family again before months.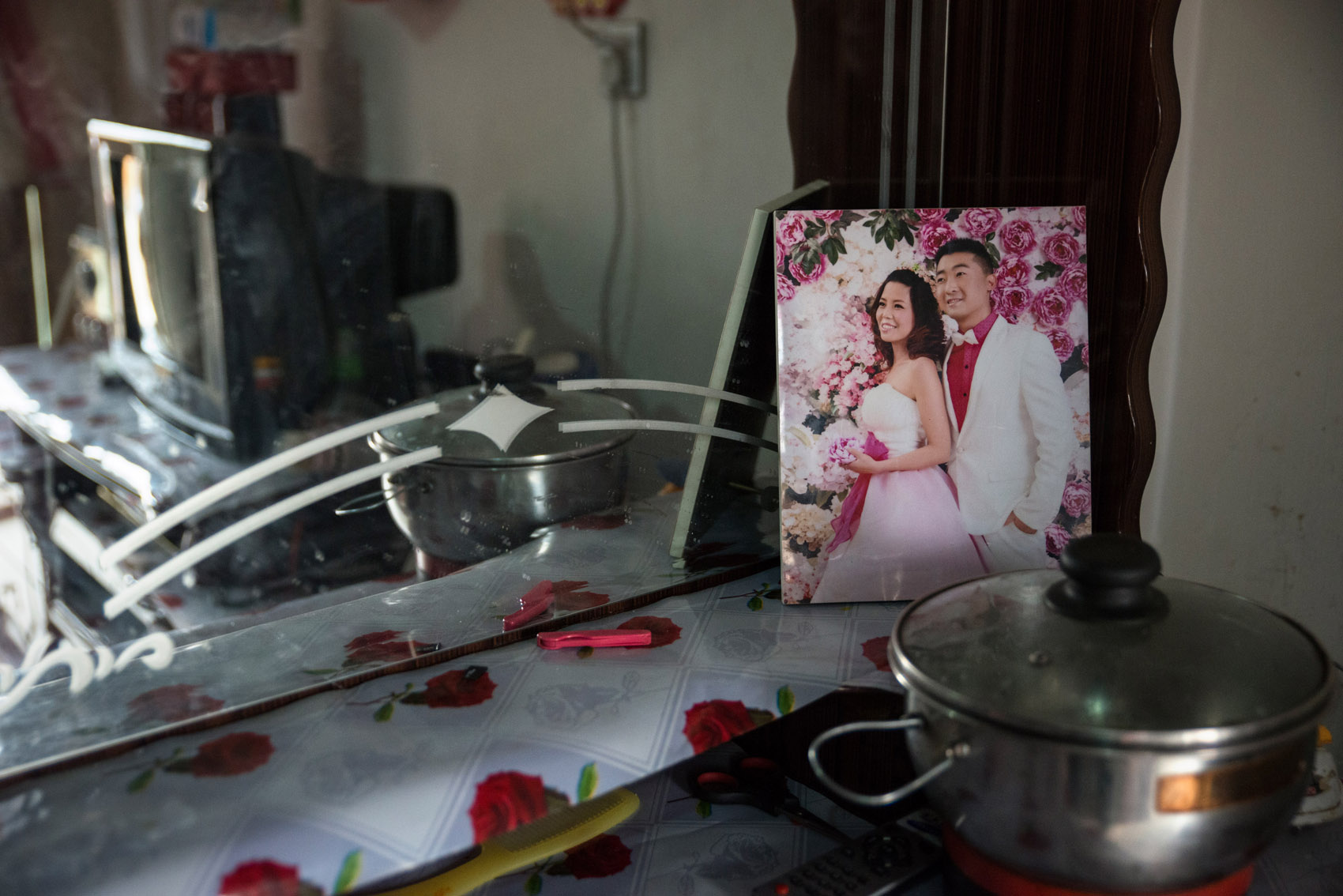 Wedding portrait in Niu's room.
Yujiaping Village
Yu Zhanglai (67) with his wife Dong Juming (67).
60% of the population of Yu Jiaping has moved down to the new village but a new house costs 200K RMB (32,000 US$) and they can't afford to move.
A new road has been built between the old and the new village. Each family contributed 1,000R RMB to the construction but they are too poor to contribute.
Tea pot on the burner at the home of Yu Zhanglai and his wife.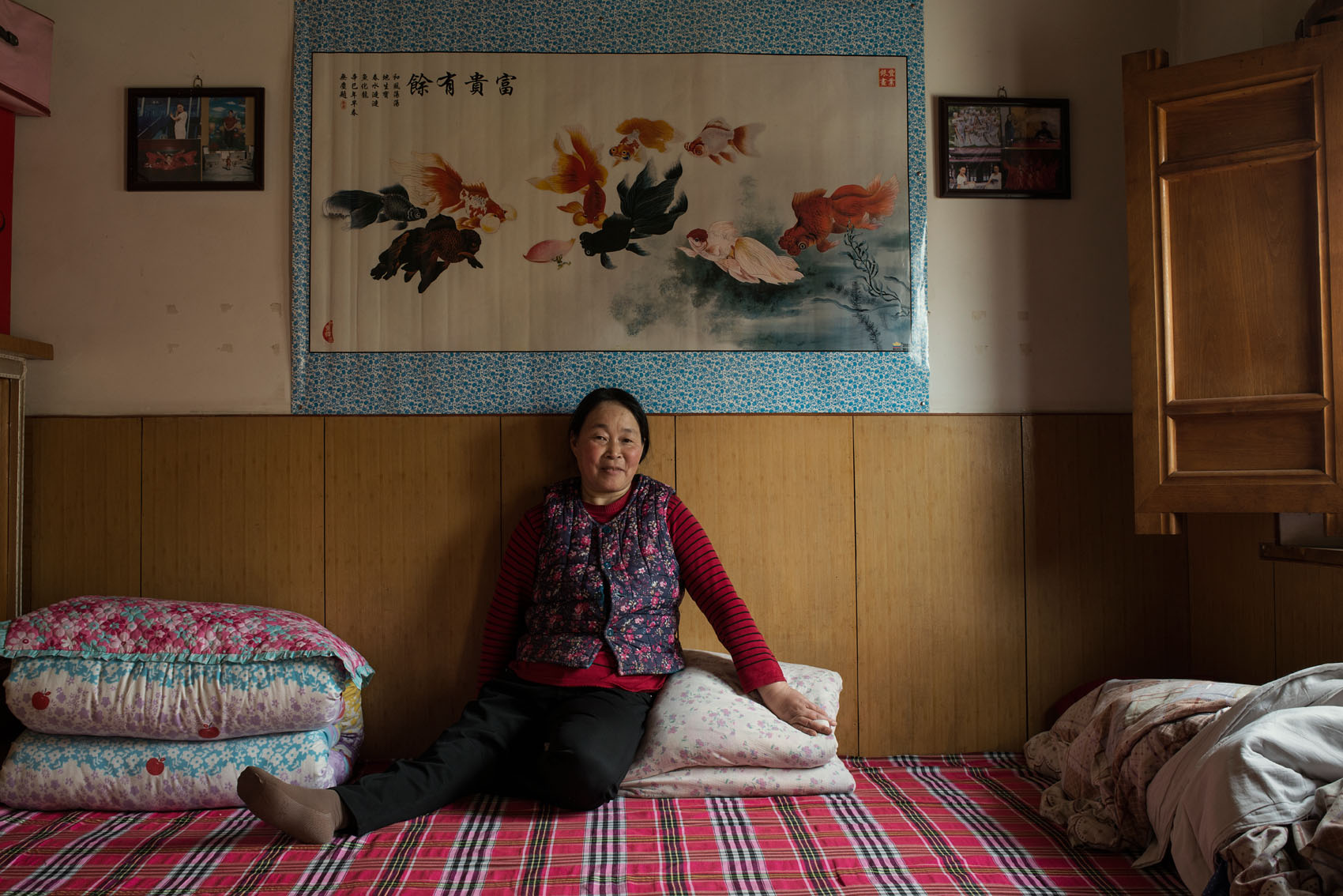 Dashi Village
Li Caiping (46)
She has 2 daughters and 1 son. Her eldest daughter is a dancer in a show for tourists at the National Park of Jiuzhaigou (Sichuan) and helps Li financially.
She has a bad leg resulting from a birth defect. Li rents out her land to neighbours and keeps 1 mu (0,16 acre) for herself.
Her son (16) quitted school last year and doesn't work. "Boys are harder to raise than girls. They are lazy", she says
Wall in Li Caiping's courtyard.
Huangmen village
Wang Huanguo, 77 years old
She has bound feet and can't remember exactly when they started bandaging her feet but probably when she was around 4 years old. In those days, all the girls would get their feet bound. This practice stopped when Mao took power in 1949.
She used to walk long distances to go to temple fairs but now she is too old and never goes very far. She says it hurts too much. "All my feet bones are broken"
"but my grandmother's feet were even smaller!" she adds.
Her eldest grand-son paid for the renovation of her house which she keeps neatly clean.
Wang Huanguo needs a stick to walk with her bound feet.
Shanmen Village
Jin Fener, (63) with her granddaughter Ma Xiyang, (12).
Xiyang's father is mentally ill and recently cracked his skull open in a bad fall. He has been bedridden for a month. She has to look after both of them with barely any income. Her husband was away spraying pesticides in their fields, half an hour away from the village. They also produce a bit of honey (30 yuan / jin)
 
In Jin Fener's courtyard.
Jinshan Village
From left to right : Wang Yandi (16) Wang Lei (5) Wang Yanxia (21)
Lei's mother is working over a thousand kilometers away in a supermarket in Xinjiang where the wages are higher. Yandi & Yanxia, two sisters, are taking care of their little nephew. They are on their own as their parents have passed away.
They will soon move to a new house the family is having built nearby.
The courtyard of the Wang family.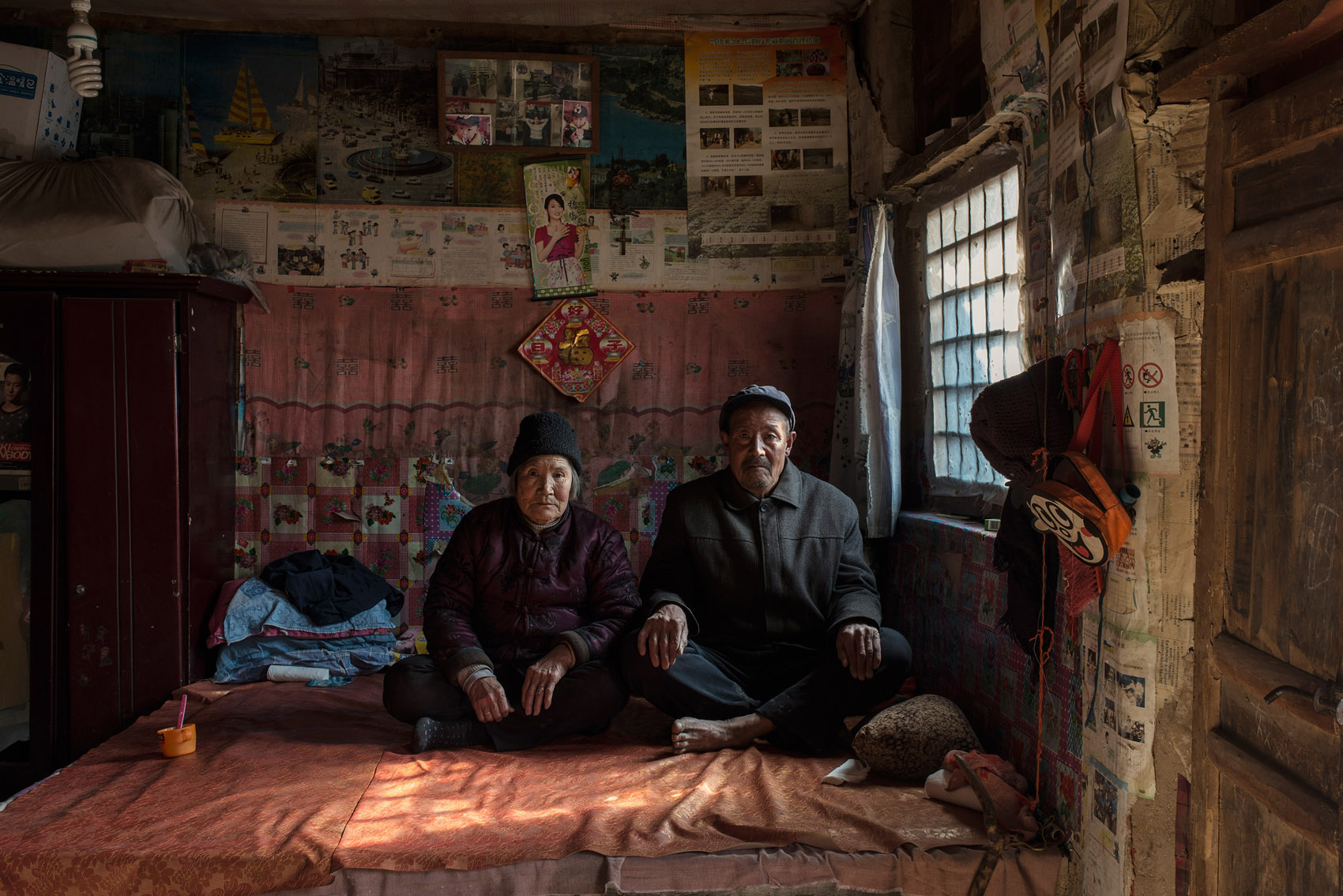 Baituo Village
72 years old Chen Guiqin, with her 73 years old husband Liu Yanggao. Living with them and taking care of them is one of their two daughters who recently gave birth to a little girl. She is unhappy to have to stay in the village and would rather be in Shanghai where her husband is a migrant worker.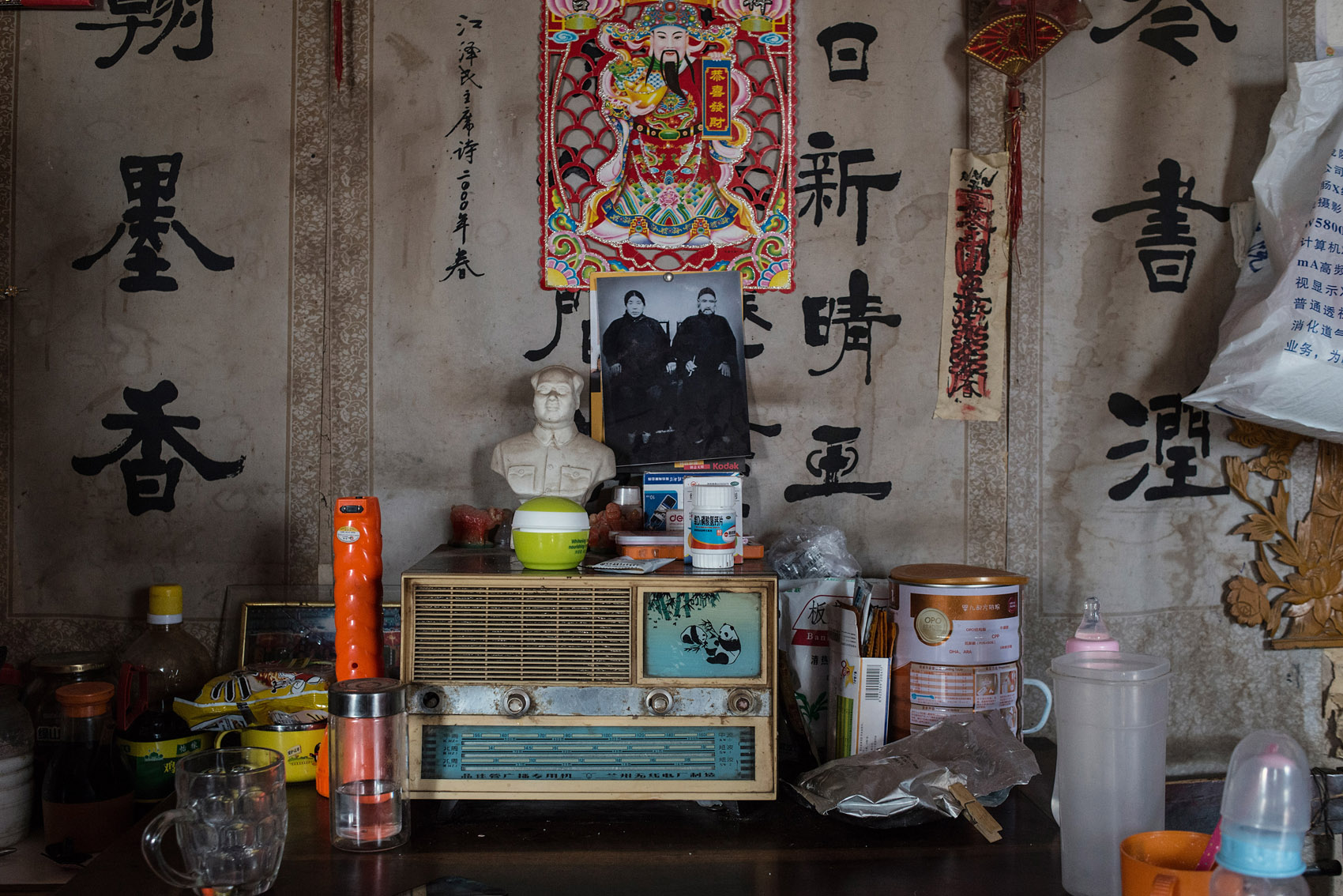 The ancestors altar in the home of Chen Guiqin and Liu Yanggao. The calligraphy is a quote from former Communist Party Secretary Jiang Zemin.
Anjiawan village
70 years old Peng Jinjin, all smiles with his newly born grand daughter Xiyuan laying on the kang next to him.
All is not happiness in Peng's life, though. His son committed suicide after his wife left him, leaving Peng in charge of another grand daughter.
Sitting on the left is Peng's brother, 76 years old Xusheng, who never got married.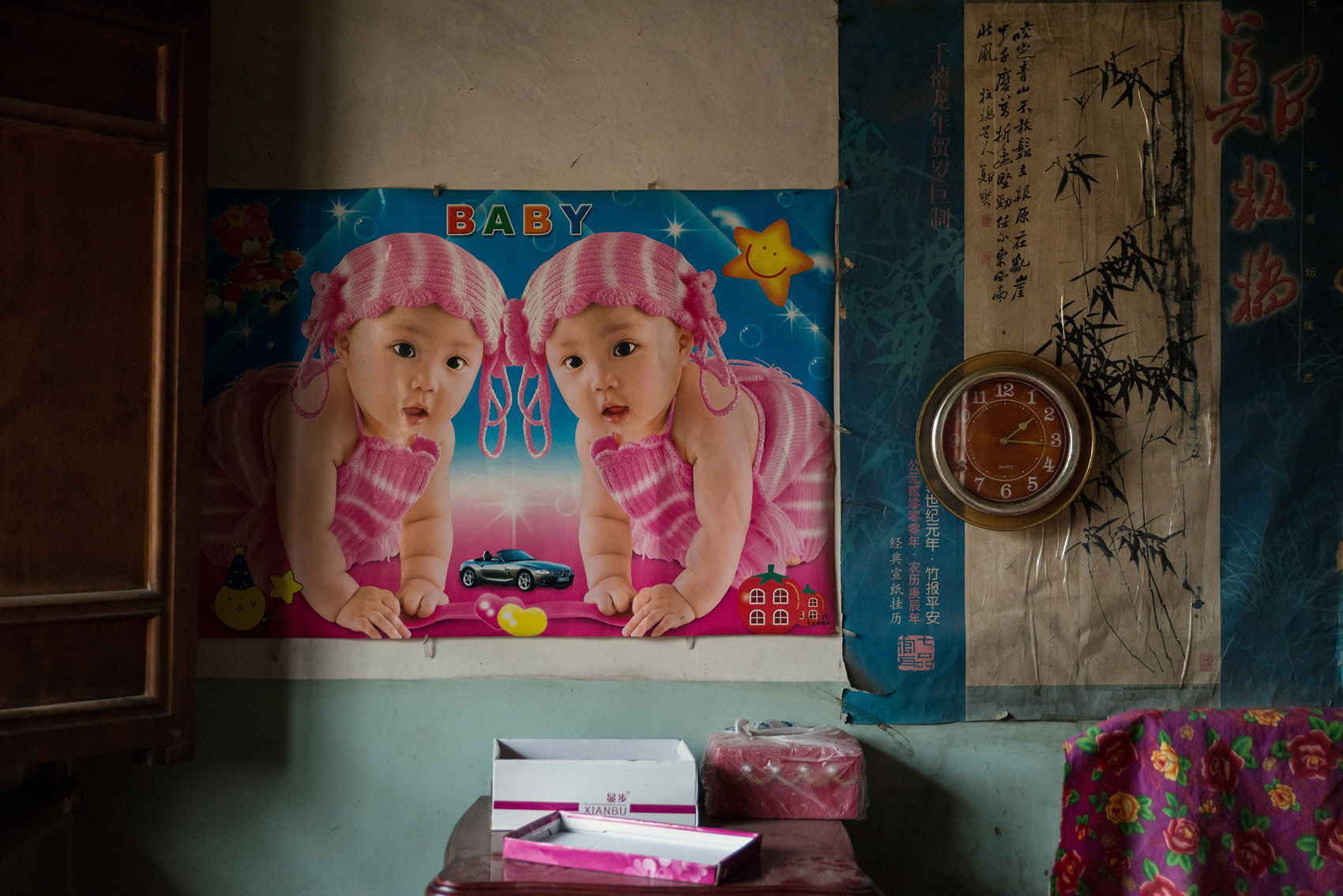 On the wall of Peng's home.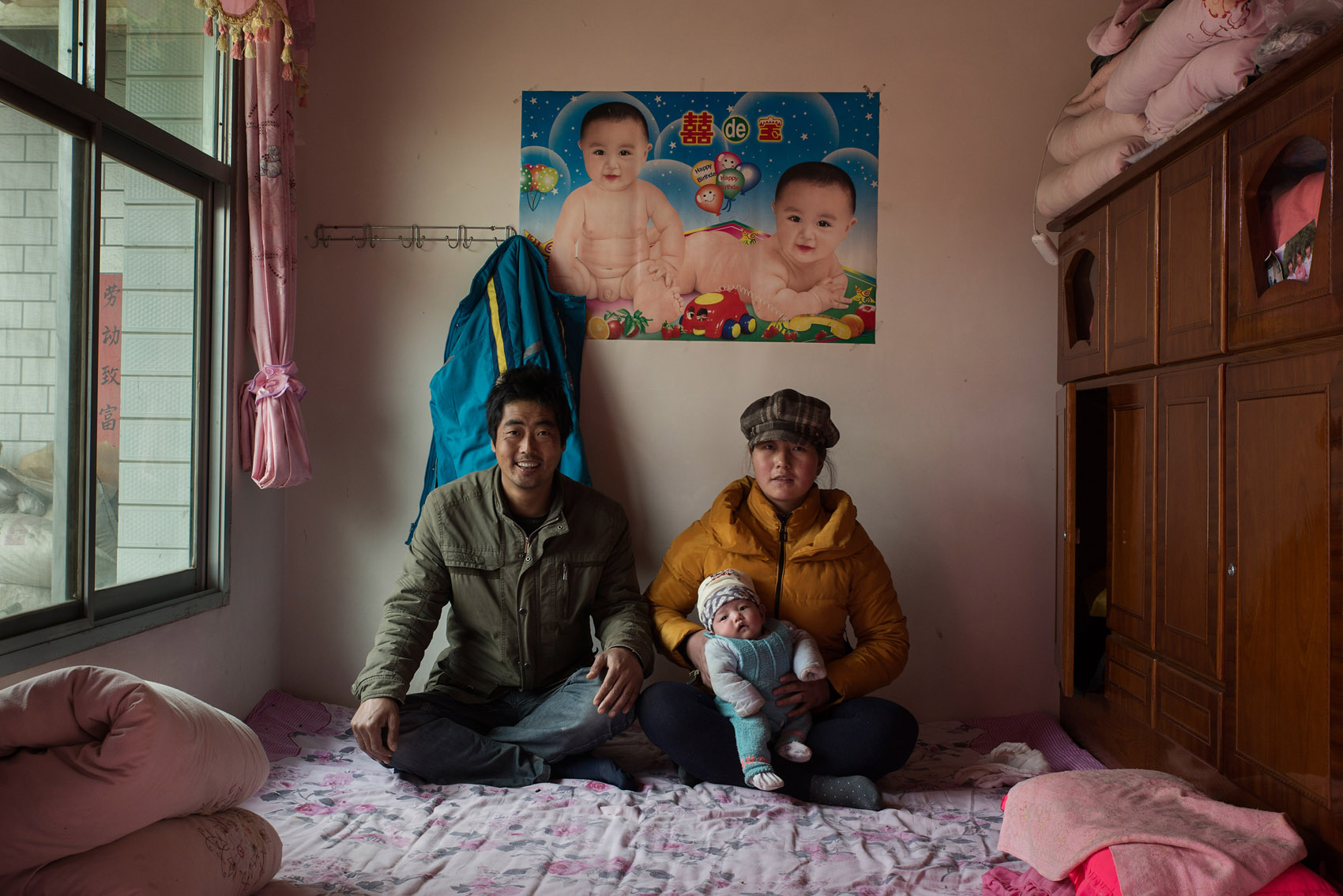 Anjiawan village
Peng Yongjie, 38 yo, with his wife 30 years old Di Jinfang and their 40 days old daughter.
Peng And Di have been trying to have a baby since they got married 8 years ago. They have sought help from local private clinics with no success and at mounting costs. Eventually they went to a hospital in the provincial capital Xian, where they were quoted 20,000RMB (US$ 3,200) for an artificial insemination. At the time Peng and Di only had 3,000 RMB in savings. For four years Peng and Di saved money to eventually be able to pay for the operation last year. The first attempt was successful. They now want to have another baby, a boy. The poster on the wall was put up 7 years ago.
Peng is a construction worker and makes about 100 CNY (16US$) a day. The picture was taken the day before Peng's departure for work after the Chinese New Year break.
Baituo village
74 years old Wang Juju. During the Great Hunger of the early 60's, his 9 siblings left the region in search of food. He never saw them again. He himself was two weeks without eating anything.
Nowadays he survives, producing honey with four beehives.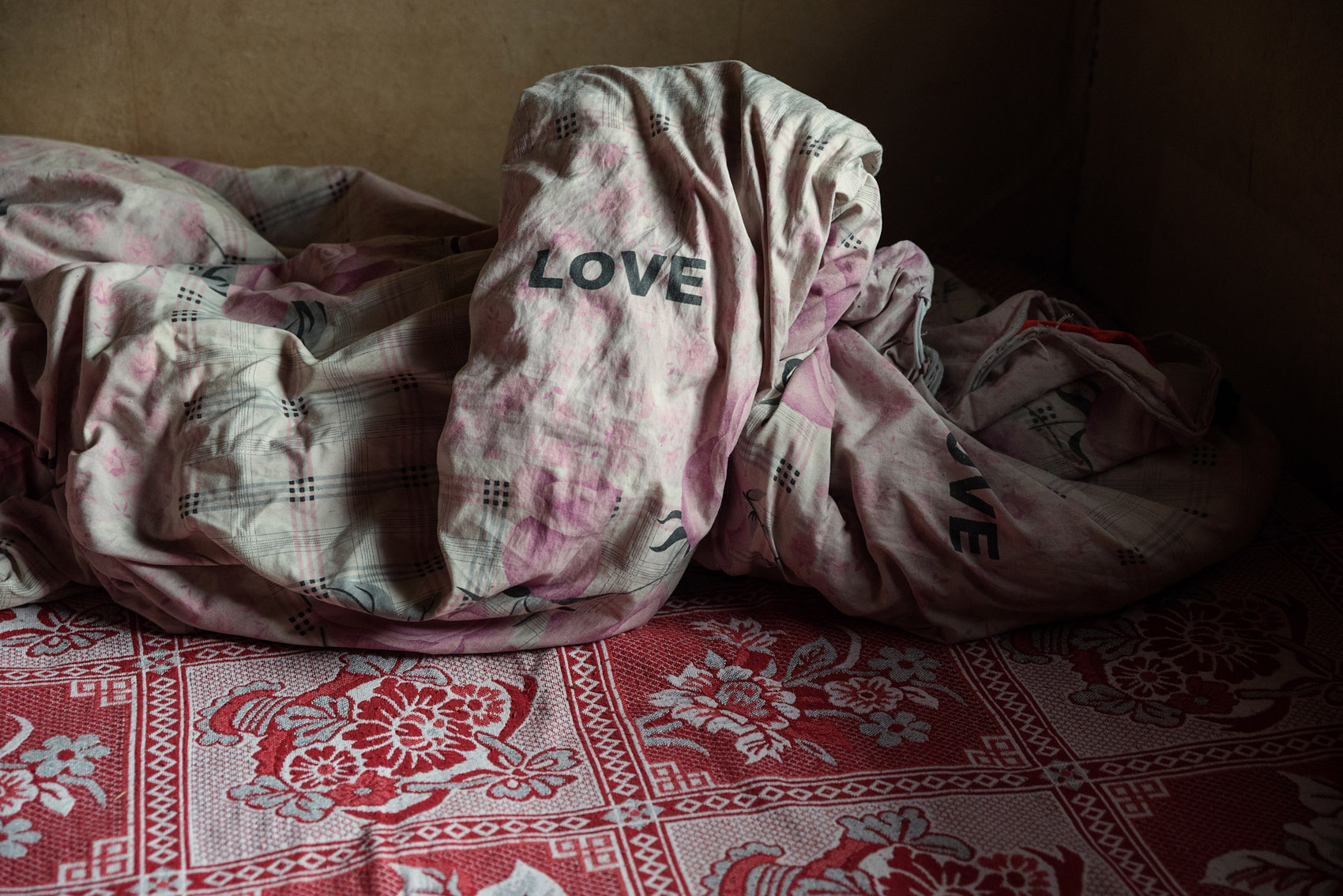 A comforter on Wang Juju's kang.
Changjiahe village
65 years old, Niu Wenxuan,
Besides farming, Niu has a passion for calligraphy and he occasionally does restoration of old scrolls. The scrolls hanging above his kang date back from the Qing Dynasty.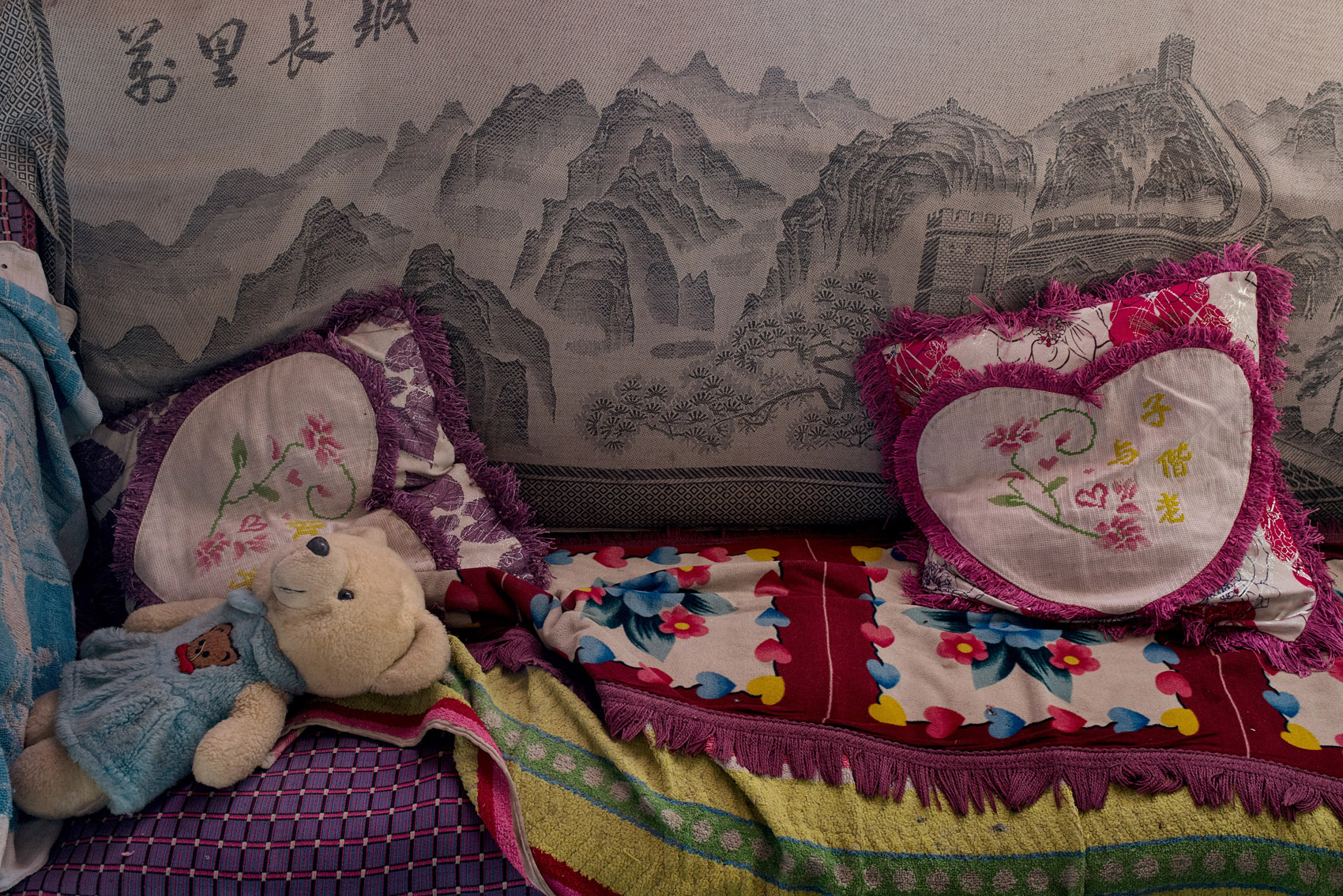 Couch in the home of Niu Wenxuan.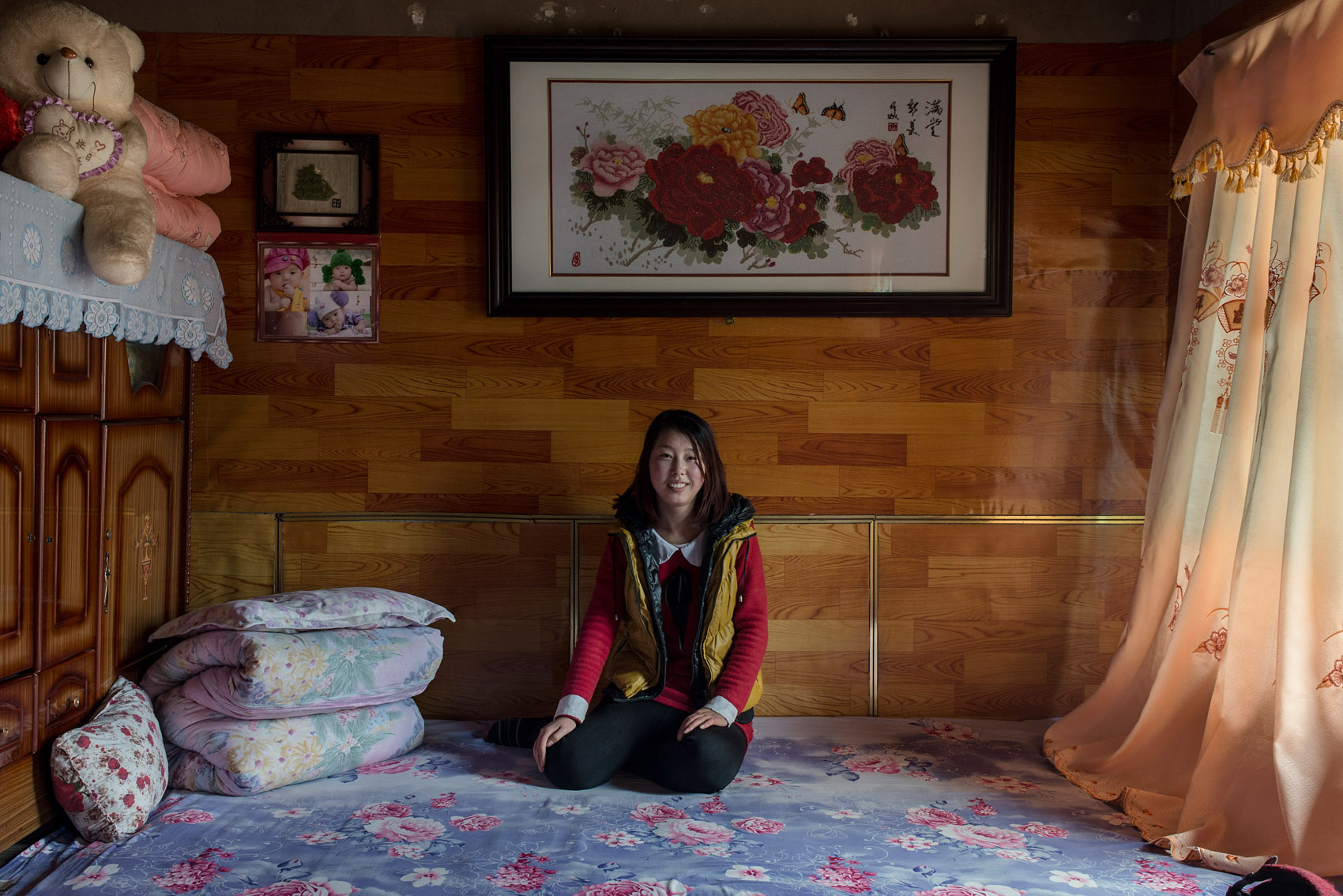 Anyuan village
22 years old Niu Taotao.
Niu left her village at 17 to work in Beijing, after 3 years there she came back to her village to take care of her younger brother (their parents have died).
She has a boyfriend who she was introduced to through a relative. He is is from the same county but works hundreds of kilometers away in a factory in Beijing. They only met twice and talk regularly via the internet. She is unsure about this relation and does not plan to get married before her younger brother goes to college.
She prefers life in the village which she finds more comfortable and safer than Beijing. She is taking care of the small family apple orchard and enjoys watching tv during her free time.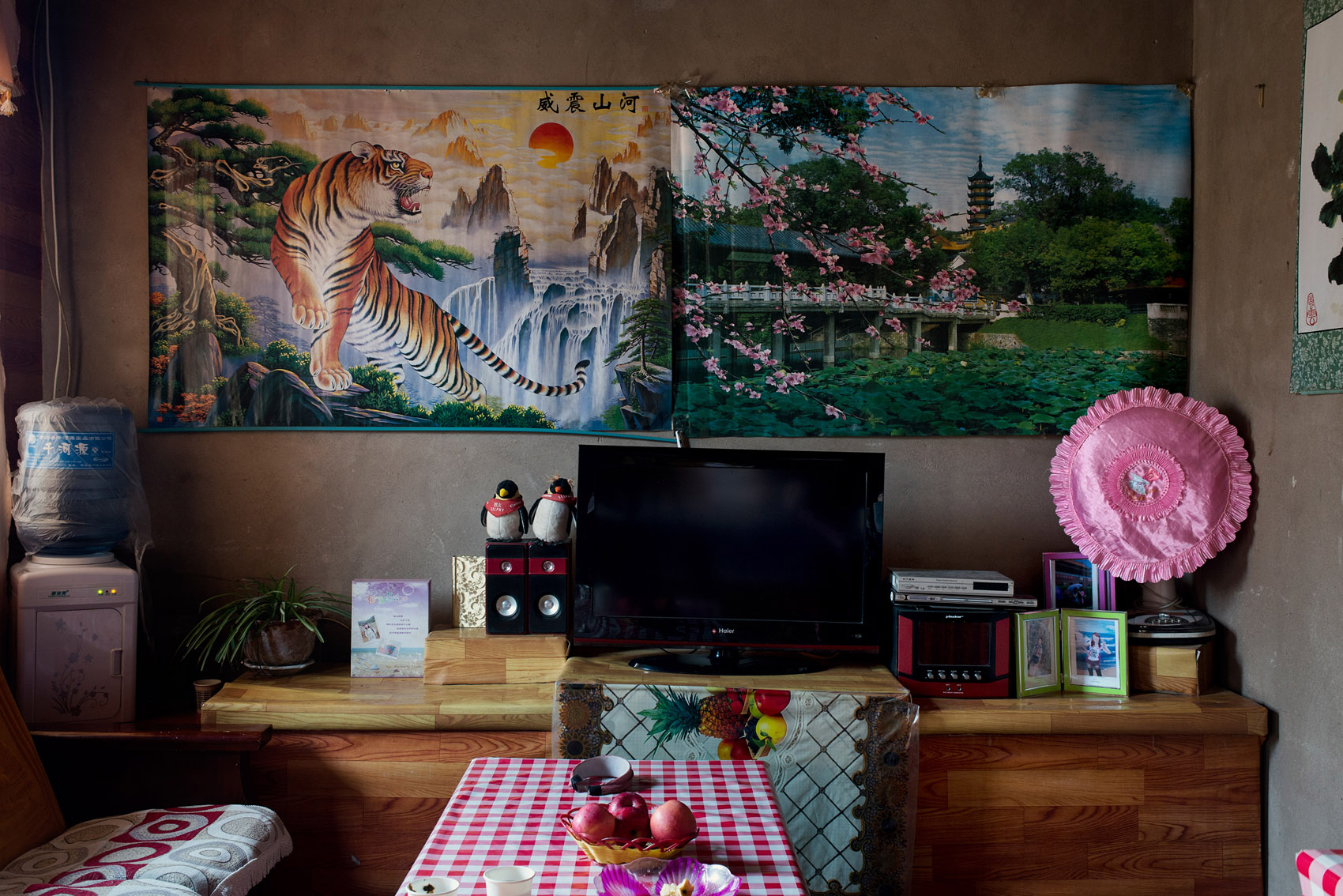 The living space across from the Kang in Niu's home.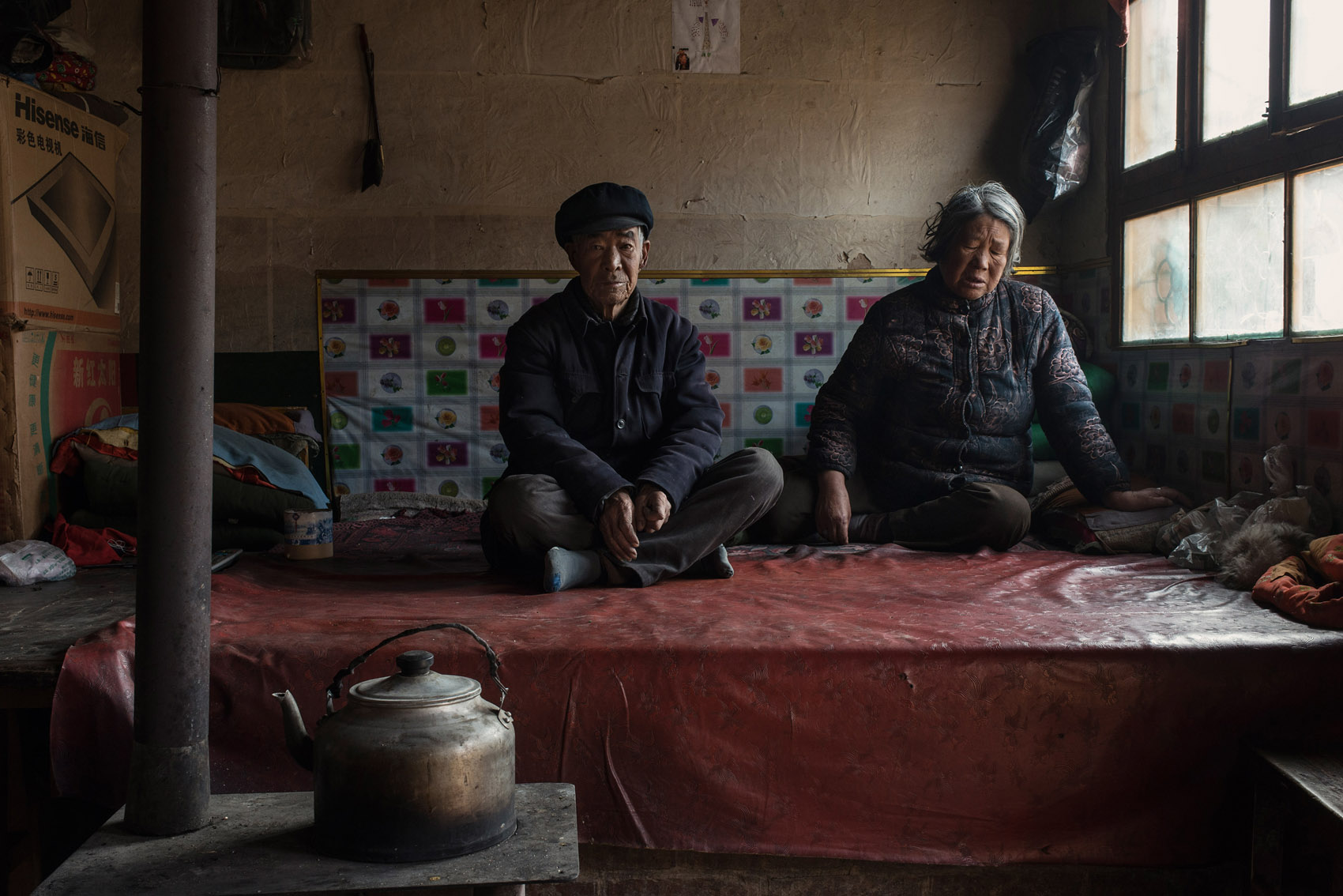 Baituo village
72 years old Yao Gouwa, with his wife, Liu Yinxiang, also 72. She is pain from hypertension. Liu is in pain from hypertension, a very common affliction among elders in the region.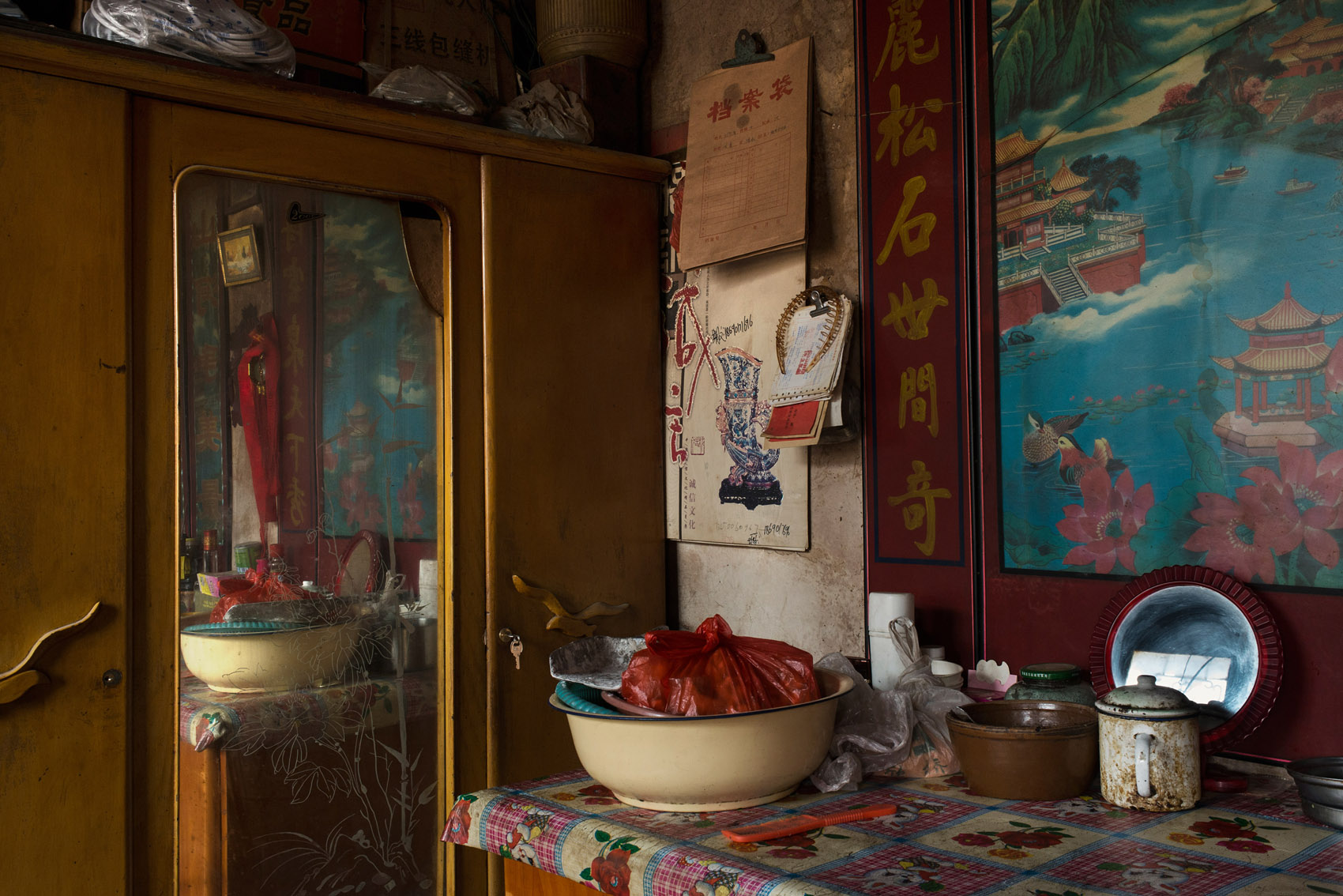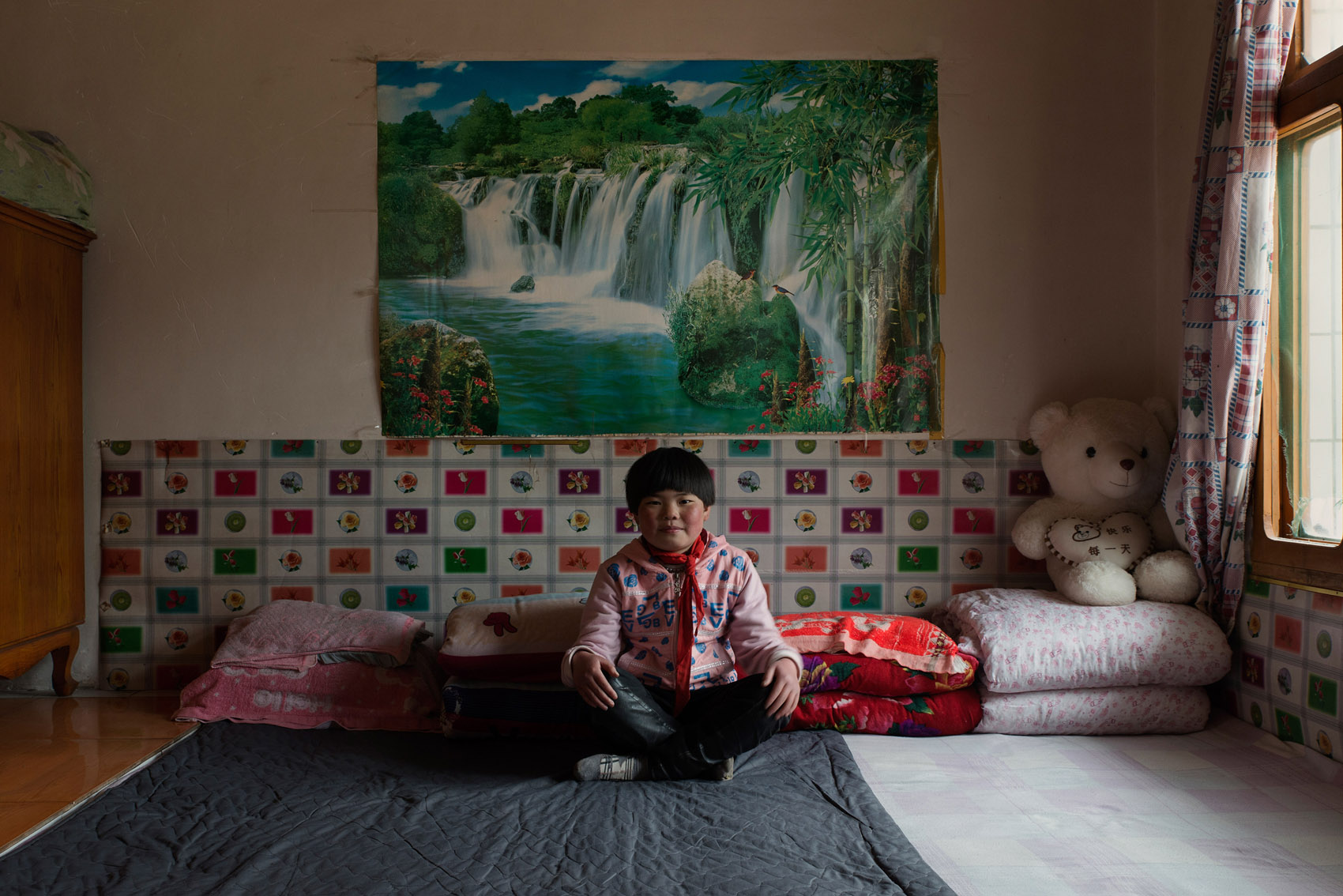 Gupo village
12 years old He Tiantian on the kang she shares with her aunt who is raising her. Her mother died in an accident when she was 5 and her father has not been heard of after he left the village to find some work the same year. She wants to be a dancer.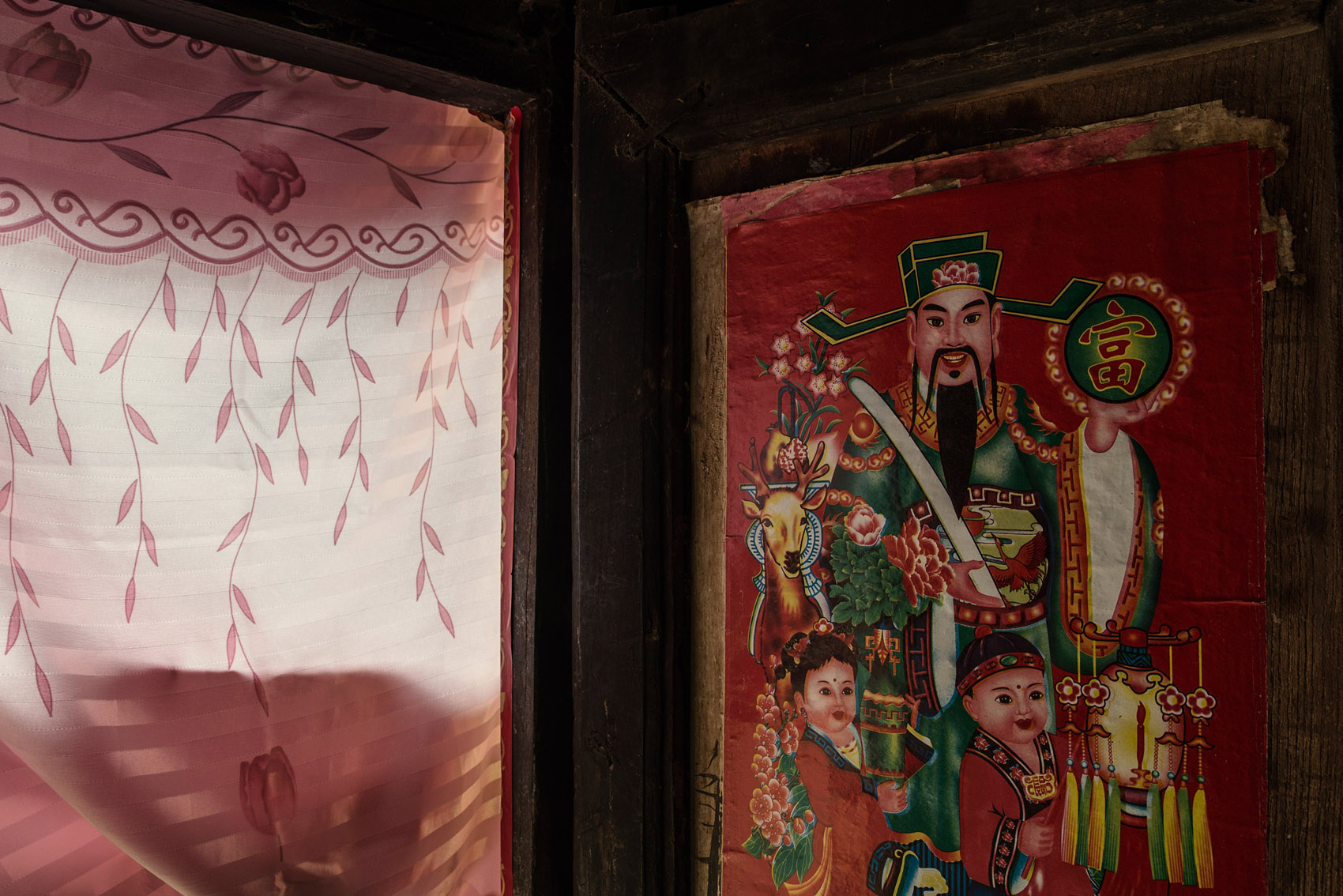 Huanghui new village
65 years old Zheng Julian on her broken kang. 8 years ago Zheng and her family had to leave their village 50 kilometers away officially because of desertification. She complains that the land they were given is no better than the one they left and says the houses built by the government for the relocated farmers are poorly built.
"When I had to leave, I cried so much I thought I would become blind."
On her wall, the school diplomas and awards of her grandson as well as a 4 years old calendar featuring a picture of Prime Minister Wen Jiabao visiting her region, during which he made a pledge to fight desertification.
The door to Zheng's room.
Dashi village
90 years old, Li Shutao
Li has 20 grandchildren, most of them migrant workers but they keep foot in the village.
In his youth Li was a farm worker travelling on train rooftops following the harvest season from county to county, all the way to the neighbouring province of Shaanxi. This is as far as he has ever travelled.
During the great hunger of the 60s he urged his sons to leave the village and go and beg for food in Shaanxi. He told them to pretend to be mute so they could more easily get on trains.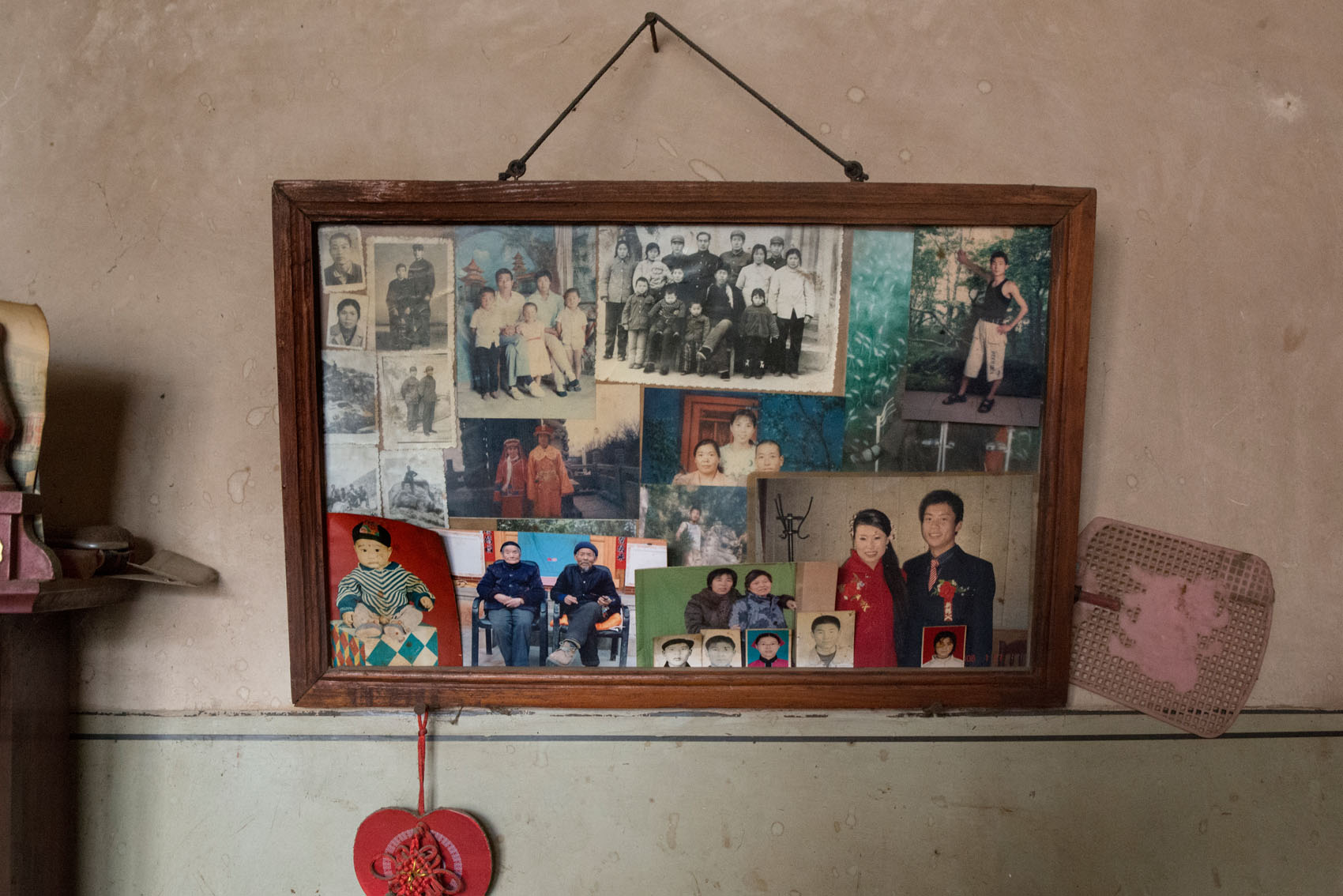 On the wall of Li Shutao's home
Jinshan Village
Jiang Shuanwa (62) with her husband He Mingyi (64)
At the age of 17, relatives introduced Jiang to a local young man she was supposed to marry. Jiang felt otherwise and wasn't so keen on the chosen one, so when her path crossed that of Yo on a village road, she decided he was a better fit and married him.
Jiang and He are taking care of their grand daughter who is going to middle school and it's a heavy burden on this household with little income.
School is free but they have to pay for food, books, uniform which amounts to 2000 RMB (320 USD) a year.
Soon they will have to rent a room in the city so that she can go to high school which will add another 2000 RMB. They can't afford it.
The wall at the entrance of Jang and He's home.
Huangmen Village
Zhang Guizi (71)
In his home, Zhang has a huge poster of Mao. Even though he complains about the destruction of the local Taoist Temple during the cultural revolution, he worships Mao who he says got his family out of poverty. Before the revolution they were living in a cave with no land of their own. They had to rent half a mu from the temple to be able to farm and had to give back a share of their crops in return.
After the Liberation, they were given two mu and a cow but it wasn't until the Cultural Revolution that they didn't have to share their crops with the temple.
In the 80's a fake Taoist monk came to live in the temple and was living off the locals' credulity. He died 4 years ago and now the Temple has just been renovated with financial contribution from all villagers. Zhang says it's nowhere near as beautiful as it was before, with poorly made statues and drawings but he is still happy to see it alive again.
The coal burning stove next to Zhang's kang.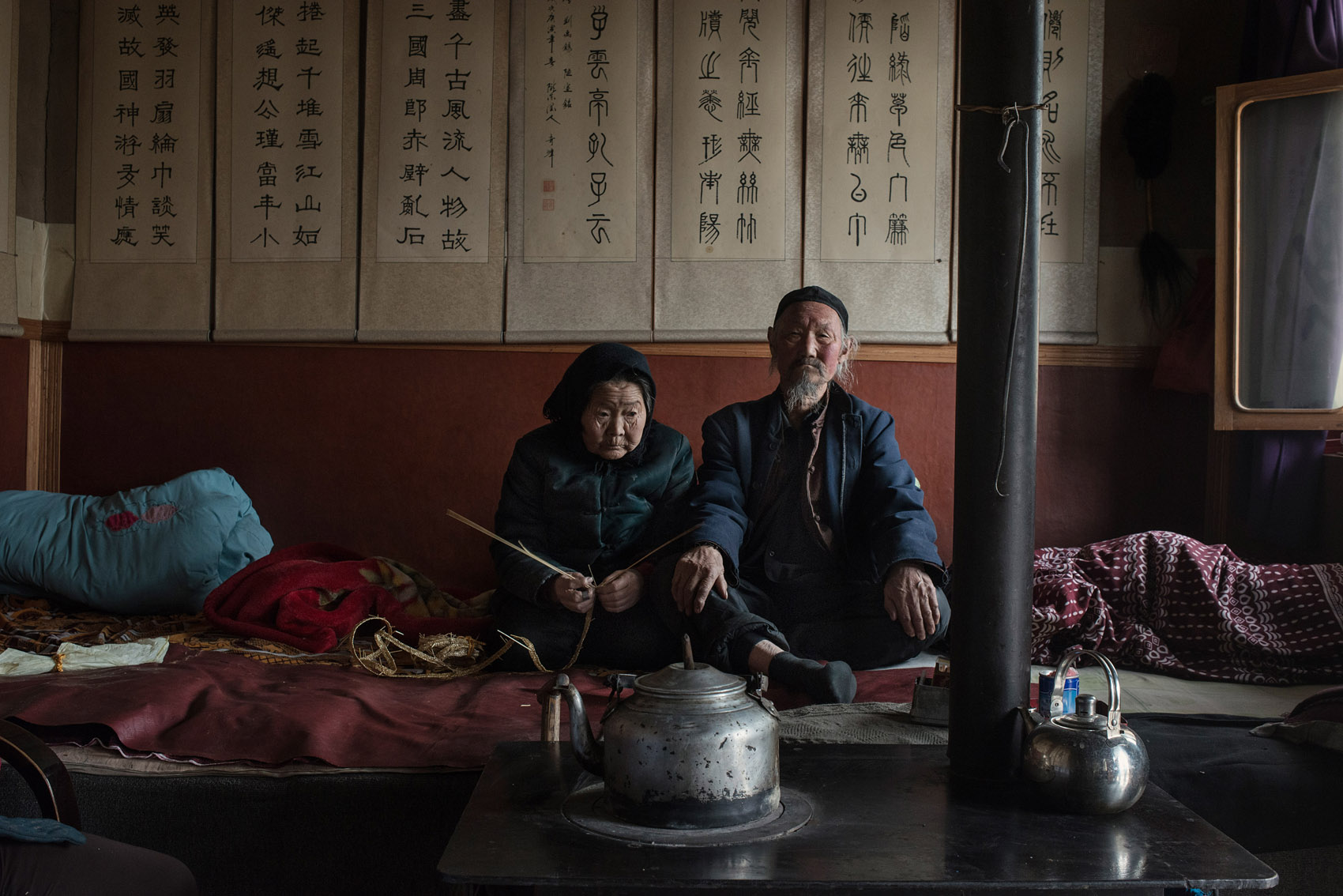 Liu Lucheng, 84 yo, with his wife Yang Fanxiu, 83.
They don't have energy any more to take care of their field. Their only son died in 2008.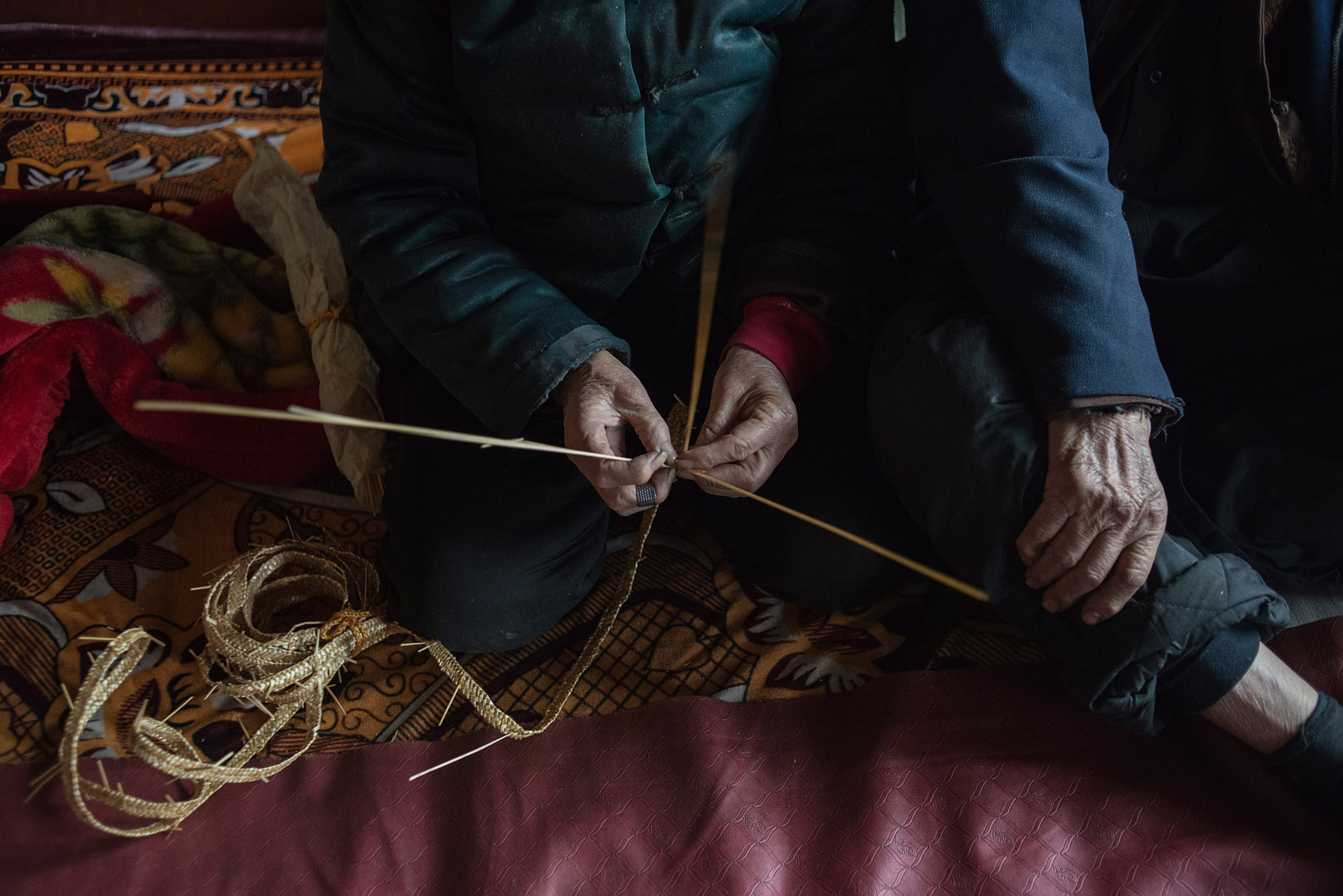 Yang Fanxiu spends her days making straw hats.
Jingshan Village
12 years old Xie Hong with her grandparents who are taking care of her. Hong's mum left her after the death of her father (often widows don't stay with in-laws in poor rural China, even at the cost of leaving the children behind). Hong's grandparents are afflicted by heart diseases and the bills pile up, straining the household meagre incomes. Hong says she wants to study to become a doctor "to take care of my grandparents, too often sick".
The frames above the kang are embroidery made by Hong's grandmother. Embroidery patterns and frames are sold at local markets and are popular home decoration in this part of China.
Lunch is warming up on the stove in Hong's home.