In Yushu (Qinghai) Tibetans attend a horse festival, a long running tradition at the core of Tibet's nomadic culture. Many such festivals have been recently suppressed by the Chinese authorities, out of fear of unrest.
A resettlement programme in the name of grassland protection is threatening the nomads throughout China. Nomads are required to reduce their cattle or sell it entirely. They are relocated in subsidized housing where they have little or no alternative source of income. Chinese nomads belong to ethnic minorities, Tibetan, Kazakh, Kirghiz, Mongolian, for whom this lifestyle is a founding element of their culture. Beyond the livelihood of nomadic families it is the culture of these minorities which is under threat by this resettlement programme.
A Kazakh nomad on his horse, in the grasslands of the Altai range, facing a propaganda billboard saying : "The foundation of this county is in its environment; environmental protection is the priority; must realise sustainable development of the grassland".
In this region, many nomads have left for neighbouring Kazakhstan, rather than be forced into sedentary farming for which they have little knowledge.
Fence in the grassland of the Sanjiangyuan reserve. Fencing has been one of the first government policy implemented to control nomadic populations. Prior to this policy, grasslands where communally managed by the nomads. Through fencing, each nomad family was allocated specific grazing area which was fenced with government subsidies, a first step in the sedentarization of mobile populations. Fencing has proved deeply unpopular, and led to an upsurge of local territorial conflicts over grazing rights, including major conflicts that have led to fatalities. Moreover, scientists argue that fencing off pastureland doesn't curb soil erosion as grazing is part of the eco-system and contributes to the sustainability of the flora and fauna.
In a residential compound recently completed, but yet waiting for its inhabitants, a Tibetan herder has brought his livestock, sheep and horses, to graze in the rubbles. The government campaign to move Tibetan herders to urban areas and curtail pastoralism has put the nomads traditional lifestyle and livelihood at risk. The environmental rational behind this policy is questioned by human rights group and scientists alike.
Rows of houses built for resettled nomads. In the name of environmental protection, the government has implemented a policy of nomads resettlement putting their traditional lifestyle and livelihood at risk. This policy, by curtailing pastoralism, officially aims at reducing the desertification threatening the Tibetan eco-system and other parts of China. Scientists are skeptical about its efficiency, arguing that pastoralism contributes to the sustainability of the grassland, while human rights groups criticise its high human cost.
At the foot of the Mutzagh Ata mountain a Kyrgyz village with rows of newly built houses for nomads, part of nationwide plan to settle nomadic populations.
A Tibetan boy playing with a toy next to an empty home part of a recently built housing project for relocated Tibetan nomads in Madoi (Qinghai).
A Tibetan nomad, holding his granddaughter in the house they recently moved in. They bought the house with government subsidies. Although featuring many amenities of modern living, satellite TV, washing machine, fridge..etc, the owners complain about the poor quality of the construction and point at many items already damaged just after a few weeks of occupancy.
This former nomad has kept the family tent and plans to use it for a restaurant catering to tourists visiting the region.
As nomads have to give up pastoralism, many see tourism as an alternative source of income.
Wemah a 75 years old Tibetan nomad at his home, built with funds from the local government. Wemah who was born out a family of wealthy herders, has now no livestock to live on after the last few cows he owned were stolen by cattle thieves.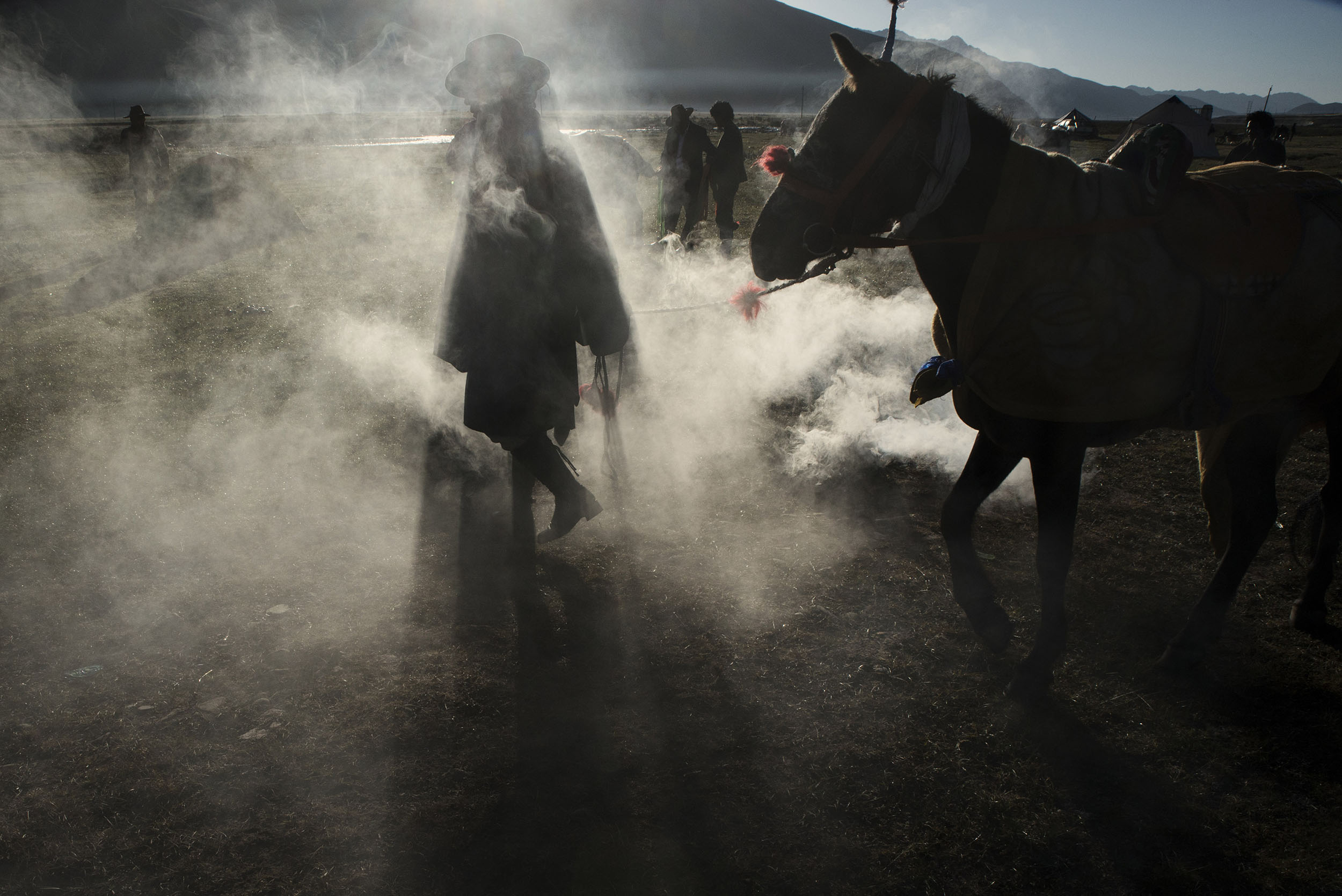 At sunrise, a Tibetan horseman walks his horse through the smoke coming from a juniper fire, a cleansing and strengthening ritual, before taking part in a horse race at Yushu horse festival. Nomadism is a pillar of Tibetan culture. The governement resettlement policy put this culture at risk as thousands of former nomads are forced into a sedentary lifestyle for which they are ill-equipped.
In Yushu, during a horse festival, nomads show their equestrian skills. Horse festivals are traditionally held every summer in the Tibetan grasslands and are part of the nomadic culture. Many have recently been cancelled by the government for fear of unrest. Others, such as the one in Yushu, are sponsored by the local government in an effort to boost tourism and, some say, for propaganda purposes.
Young Tibetans crossing paths with Buddhist monks in Yushu (Qinghai) a market town for nomads of the region. For many of the younger generation of Tibetans, urban life is more appealing than the nomadic lifestyle of their parents however they remain attached to it. Nomadism and Buddhism are two main pillars of the Tibetan culture.
A young nomad playing pool.
Forced to give up herding, it is difficult for nomads to find alternate source of income. With little education, no professional training, and no job market, many nomads live on the government compensations until they dry up and then leave the grasslands.
Meilan (left) and his cousin, two ethnic Kazakh herders, take a break in the barren landscape of Northern Xinjiang. Meilan would like to quit the nomadic life and find work in the city but can not, he is the elder son and has to take care of the family livestock. The nomads resettlement policy may meet the aspirations of some nomads, especially younger ones who dream of another life, however most herders have no alternative source of income.
In the grassland of the Altai mountains, a young Kazakh nomad standing in front of the family yurt where both his parents stand, during the yearly migration from summer to winter pastures.
In his tent, a Kazakh nomad feeding his 9 months old daughter with a bottle, while his son is playing outside the family tent. They are on their way to the summer grassland and have establish camp in a deserted landscape. Desertification has been intensifying and is an environmental threat in the region. The government claims overgrazing is responsible for it, and has developed a policy of forced settlements for nomads, threatening the livelihood of the local Kazakh nomads. Hundreds have moved to nearby Kazakhstan as result. This nomad owns a dozen camels, 25 cows and a hundred sheep. The family earns between RMB 10 000 and 25 000 a year. He also plans to follow the example of some of his relatives and leave China for Kazakhstan.
Near Buerqin (Xinjiang), in his tent, a Kazakh nomad feeding his 9 months old daughter, next to his son. Some in his extended family have moved to nearby Kazakhstan, as they were forced to sell their herd. The family owns a dozen camels, 25 cows and a hundred sheep and earns between RMB 10 000 and 25 000 ($ 4000) a year. They are thinking of leaving Xinjiang for Kazakhstan.
Young Tajiks, playing with a smartphone made of wood and felt, in the grassland near Tashgurkan (Xinjiang). In spite of the government efforts to curtail nomadic pastoralism, this family moves to the grasslands every summer. Concrete yurts have been built on the road to Tashgurkan, but haven't been used.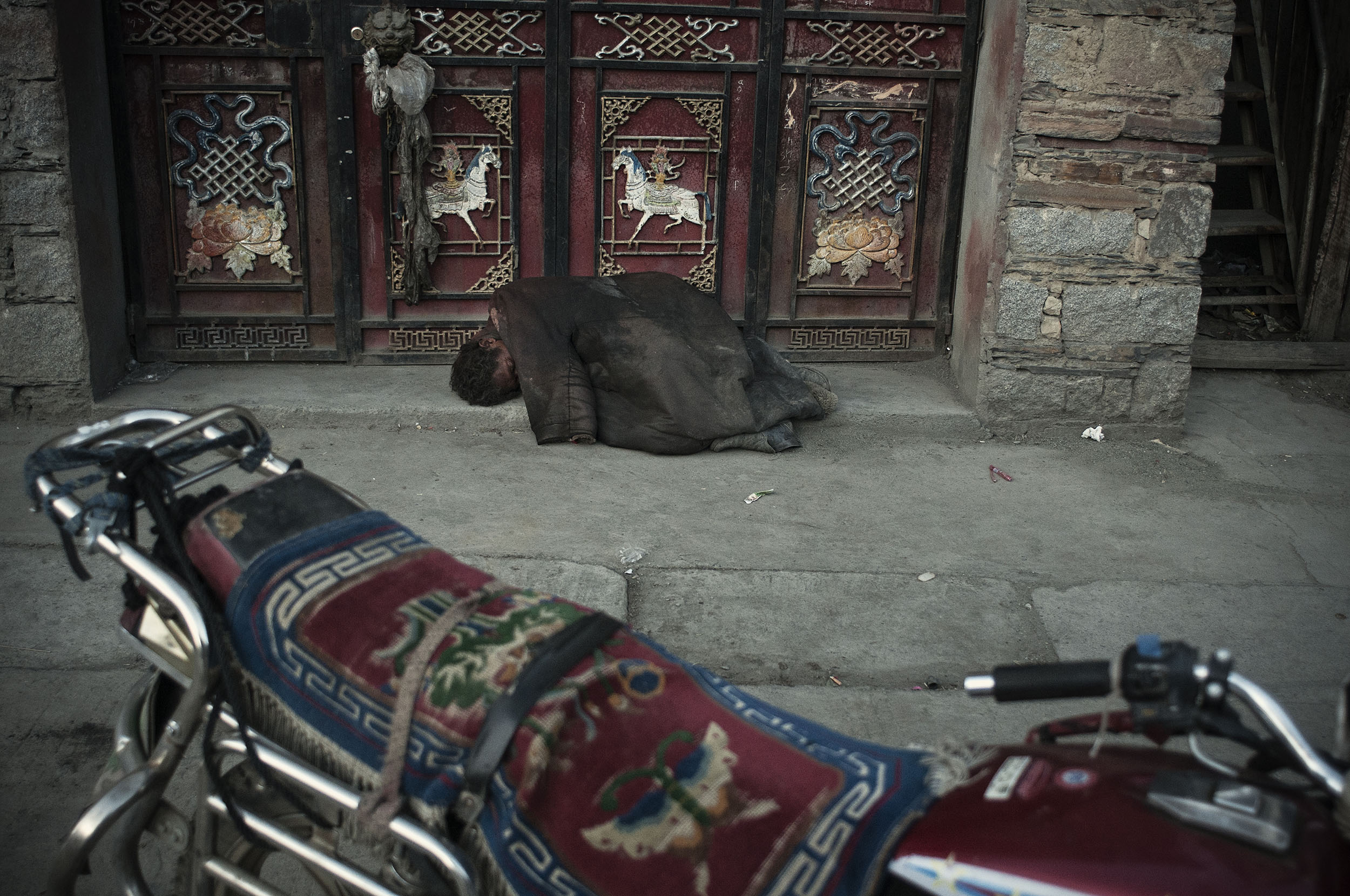 In Tagong (Sichuan) a beggar sleeping on the street in spite of sub freezing temperatures. The government policy of resettling the nomads is a threat to their livelihood. Most of them, with no education, and ill prepared for life in the city are unable to generate alternate source of income. Many of them live on government subsidies or compensations initially provided to them. When these dry up they are left with no way to support themselves.
In Yushu (Qinghai) Tibetan nomads surrounding a middle-man at cordyceps market. The cordyceps is a highly coveted fungus used in traditional Chinese medicine, harvested in spring at high altitude in the Himalayas. Some nomads make tens of thousand of dollars annually from the cordyceps trade. However this source of income is drying up as, prices have dropped recently. Over harvesting is another threat to this new source of income, which has compensated for some, the loss of income resulting from the restriction to pastoralism.
Chinese tourists enjoying the Tibetan grassland near Xiahe (Gansu). Some Tibetan nomads in the region have set-up camps for tourists, cashing on the fascination for nomadic lifestyle.. A new source of income for them as their livelihood is under threat by a resettlement plan.
A Chinese tourists at a horse-riding camp set-up by Tibetan nomads in the grassland near Xiahe (Gansu). Some nomads in the region have set-up camps for tourists, cashing on the fascination for nomadic lifestyle. A new source of income for them as their livelihood is under threat by a resettlement plan.
In Hexingten (Inner Mongolia) a herder takes his sheep grazing nearby a coal to gas power plant, polluting the water and the air. Local herders have been protesting the plant and ended up in jail. Throughout Inner Mongolia, herders and nomads have had to give up their land for government projects : mining, power plants, military zones, leading some to suicides and many to prison.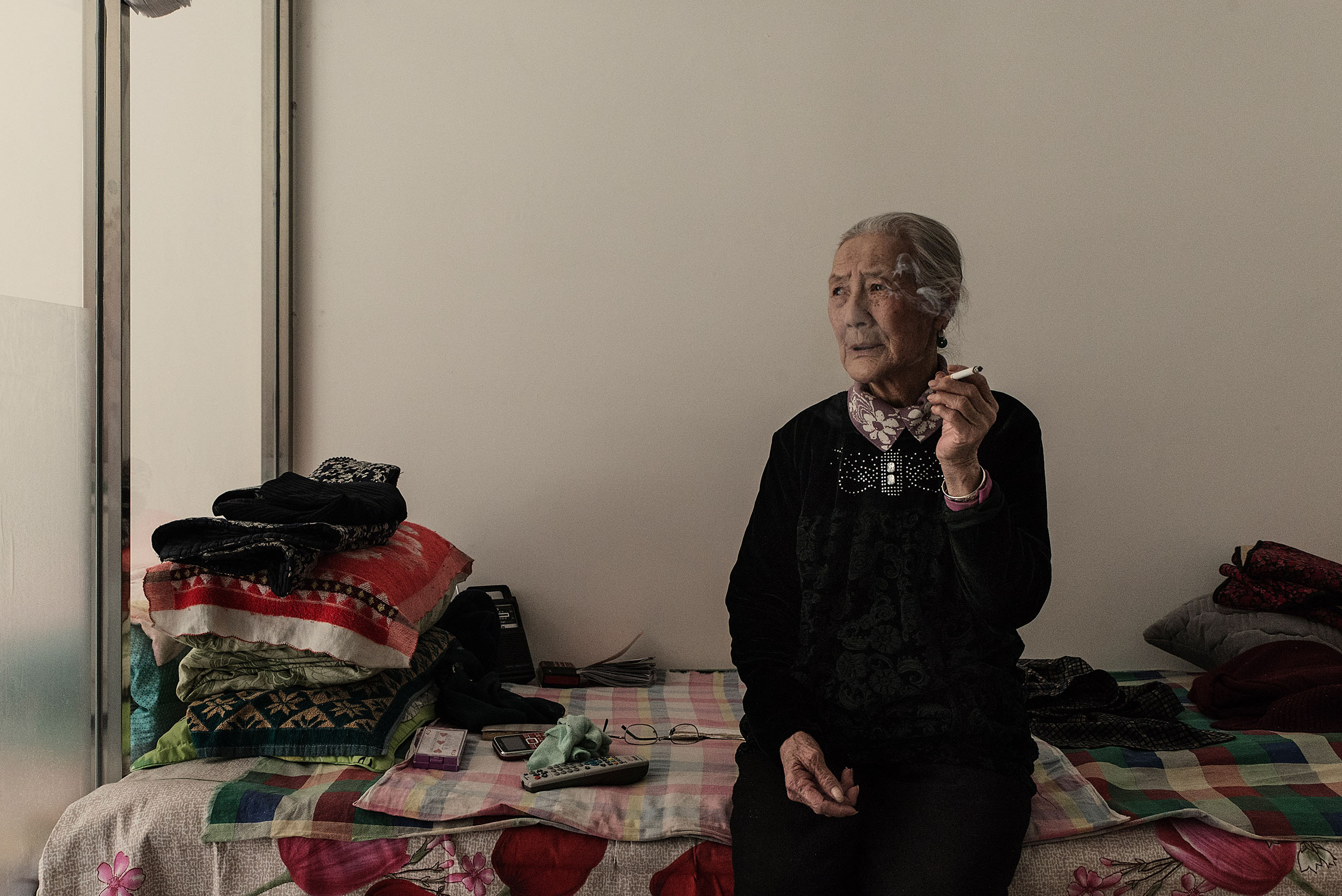 75 years old, Dushaocai sitting on her bed smoking, in Jarud Banner (Inner Mongolia). Dushaocai had to leave her grassland in Holingol due to pollution from a nearby aluminium mill. She was forced to resettle in an urban area, separated from her sons. Remembering her life on the grassland brings her to tears. Her best memory of, it is waking up before sunrise and cooking milk tea for her sons. Mongol nomads have been the first to be affected by forced resettlement, and wandering pastoralism a pillar of mongol culture and lifestyle, amost entirely disappeared in the 90s.
A nomad wearing a hat made of fox fur, at the sources of the Yangtze river where he and his family live year around which was impossible just a few years ago. Rising temperatures and receding glaciers allow yaks to graze in the area.
Young Tibetan nomads walking towards the Jianggendiru glacier source of the Yangtze river, in one of the most desolate and remote region of the Tibetan plateau. In large parts of the region, the Three Rivers Natural Reserve, grazing has been banned in the name of environmental protection while heavily polluting mining operations have been authorized.
The empty grasslands of the Three Rivers Park on the Tibetan plateau. Grazing is banned in thousands of square miles of this region and nomads are nowhere to be seen. A policy implemented in the name of environment protection, but increasingly challenged by scientists who argue that the threats to the Tibetan plateau ecosystem are the results of climate change, the proliferation of rodents, and pollution from mining activities rather than nomadic pastoralism which is actually beneficial to the soil.
 
A Tibetan nomad, showing a picture of himself at the age of 25. A nationwide campaign of nomad resettlement, in the name of environment protection is pushing Tibetan to give up pastoralism for a sedentary life alien to them.