A couple of young workers buying steamed buns before the start of the day shift at a Foxconn factory.
On the outskirts of Zhengzhou, a city dedicated to the production of Apple's Iphone has grown in a couple of years from a few thousands to a quarter million mostly young workers. The city is still in the making, with dirt roads, construction sites, and new plants emerging from fields. The place has an atmosphere of gold rush. Hundreds of people have come to this new city, trying to cash in on this influx of workers. They have set up restaurants, stores, gambling dens, discos and skating rings. Meanwhile the young Foxconn recruits work hard, but for many of them also play hard. Unlike the previous Chinese workers generations, they are also here to have fun and they do!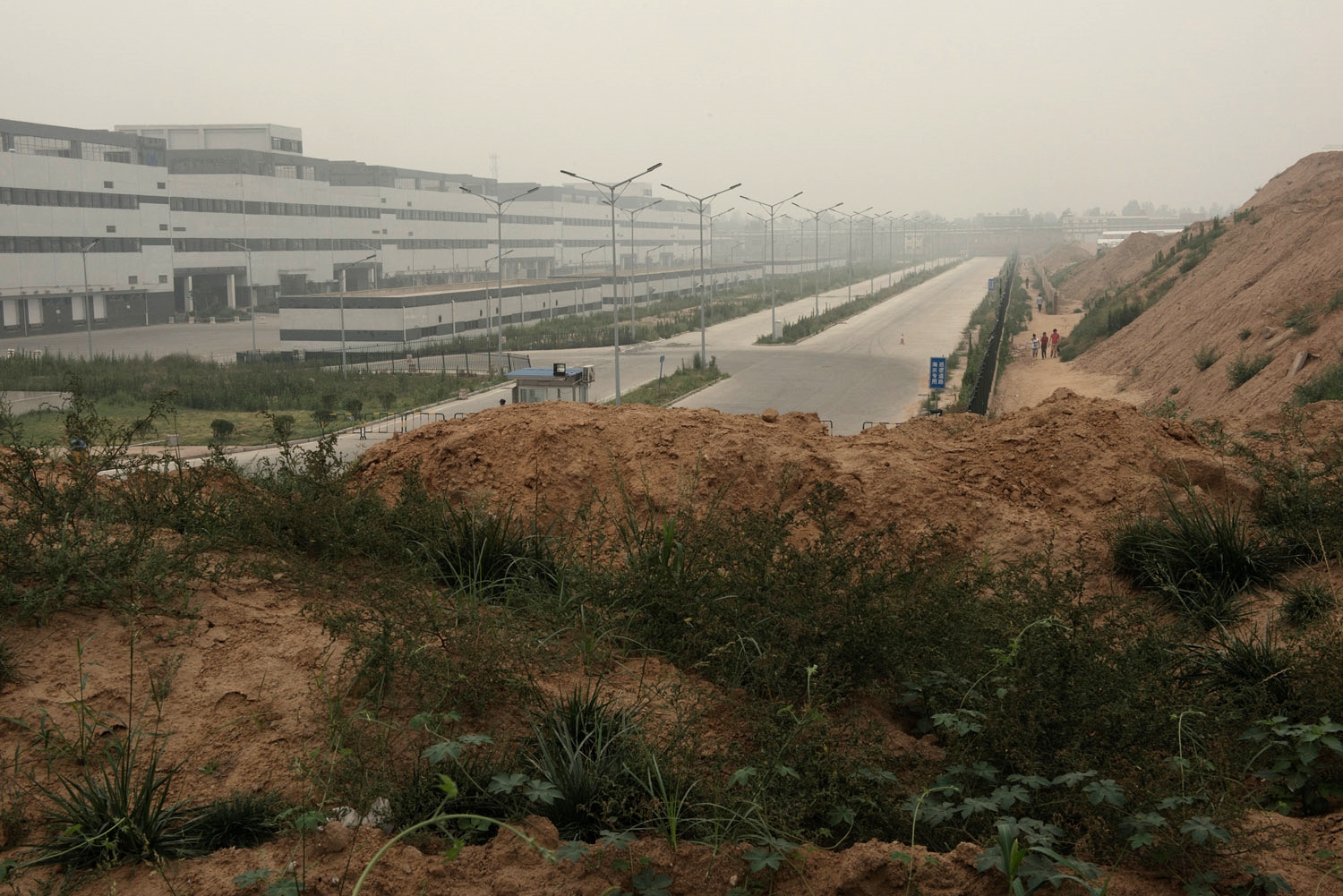 A Foxconn plant on the oustkirts of Zhengzhou. In the span of two years what was a group of rural villages has been transformed into a factory town with over 200 000 people mainly working at the production of Iphones. Foxconn, a Taiwanese company, is one of Apple main subcontractors and employs over 1.2 million people including hundreds of thousands in China.
A woman has just arrived for a visit at Foxconn factory city on the outskirts of Zhengzhou. She is calling her boyfriend working on an I-phone assembly line. She might join the workers' ranks.
At lunch break hundred of factory workers have left the factory to have food at the stalls which are catering to them. Foxconn provides food for its workers but many of them prefer to eat out because, they say, of the poor taste/quality of the one provided by their employer.
Two Foxconn recruiting agents stations nearby factories. They work for a hiring agency contracted by the local governement. They say they hire on average 10 workers a day. To provide needed workforce, Foxconn relies on local authorities which in turn hires recruiting agents. At times, civil servants can be required to fill in for workers at Foxconn when recruitment has been difficult.
Just hired Foxconn workers are waiting for the agent who recruited them. For hiring workers, Foxconn relies on the provincial government which itself subcontract agents. The turnover is high at Foxconn and agents are almost constantly hiring.
It's past 10 pm at Zhengzhou's Apple city and recruiters are still busy. A young man is showing his forearms at recruiters. Any sign of a tattoo would be disqualifying. However, when in shortage of workforce Foxconn recruiters overlook this precondition.
Foxconn dorms on a street still under construction.In the span of two years what were rural villages on the outskirt of Zhengzhou has become a bustling factory city dedicated to Foxcoon, and housing 200 000 workers. The city is still expanding with new factories being built.
 
I-phone workers and crooks by a lottery scam stage. The young I-phone workers are easy prey for small scale crooks and hustlers. For many of them it is the first time they live outside their hometown/village and the first time they are financially independent.
A Foxconn worker at a fast food restaurant during a day off..
A young couple by a skating ring. Skating is one of the most popular out-of-work activity for the Foxconn workers here.
A lone diner at an outdoor restaurant next to a construction site at the Foxconn factory town on the outskirts of Zhengzhou.
Li Yi Gang a 19 years old Foxconn worker in his room. Li rents this room which he shares with a friend. They work on alternate shifts. Each pays a RMB300 montly rent for the room, double what would cost a bed in a Foxconn dorm. But Li thinks it's worth the extra money, as he considers the dorms too cramped and noisy.On his spare time, when he is not visiting his girlfriend in a nearby city, Yi likes to go rollerblading.
At 6 pm, Foxconn workers on the day shift leave the factory. Many of them will come back to do extra hours. Labour organisations have faulted Foxconn for breaking labour laws by requesting employees to work too long days and too many days without rest, leading to workers exhaustion and higher rates of accident. However, most workers are seeking to work extra hours. They say the basic salary is not enough and only extra work makes it worth working for the Apple subcontractor.
Foxconn workers sitting in a cart taking them from the plant to the commercial/residential area of the factory town. On the cart a promotion for a housing project nicknamed "Apple City".
Foxconn workers sitting in a three-wheel taxi riding a dirt road of this factory town still in the making.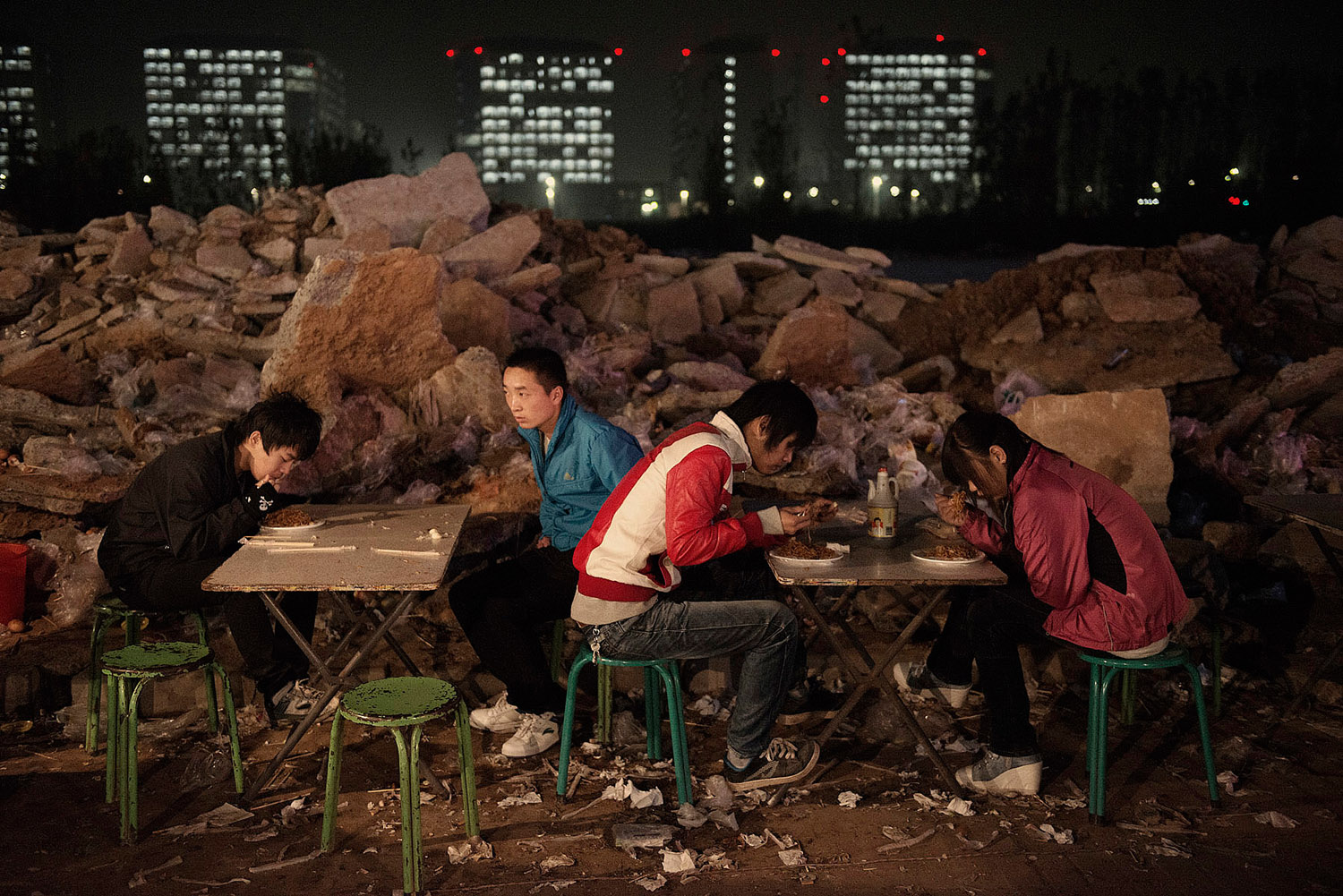 Foxconn workers having dinner in a small outdoor restaurant in front of their dorms.
Foxconn workers passing by a cloth vendor. The sudden influx of young workers in what was a rural suburb of Zhengzhou has attracted many small businesses ran by locals and catering to the workers needs.
Foxconn workers drinking beer during a transvestites show at an outdoor restaurant in the Foxconn factory town.
On a street still under construction.
On a dirt road of Foxconn factory town on the outskirts of Zhengzhou, two girls checking their smartphones while a construction truck is passing nearby.
At a skating ring. Rollerskating is one of the most popular hobbies among Foxconn workers.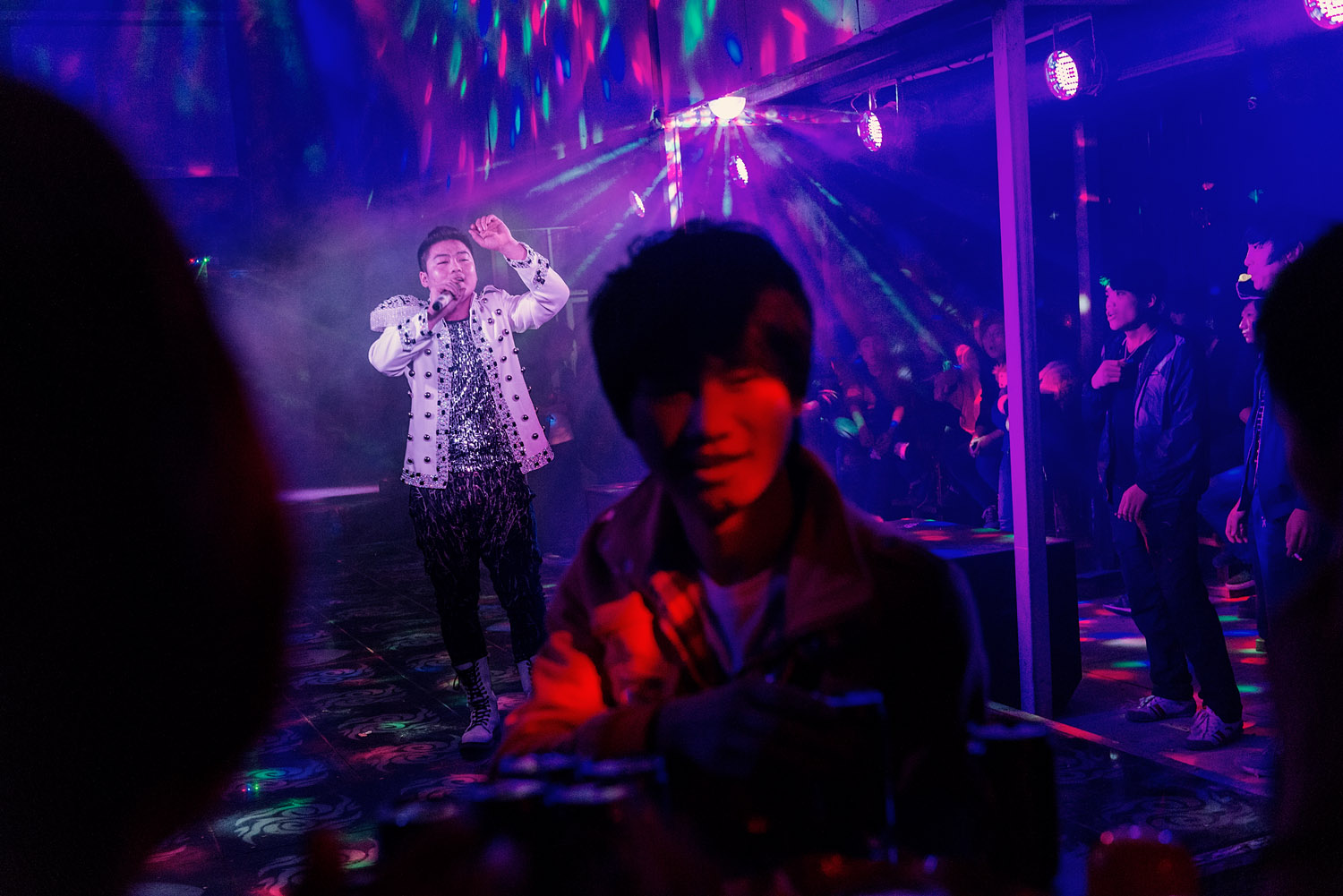 During a performance, at a club, in Foxconn factory town on the outskirts of Zhengzhou.
Foxconn workers at a club
Foxconn workers at a club
Foxconn workers watching a show at a club
A foxconn worker dancing in a club.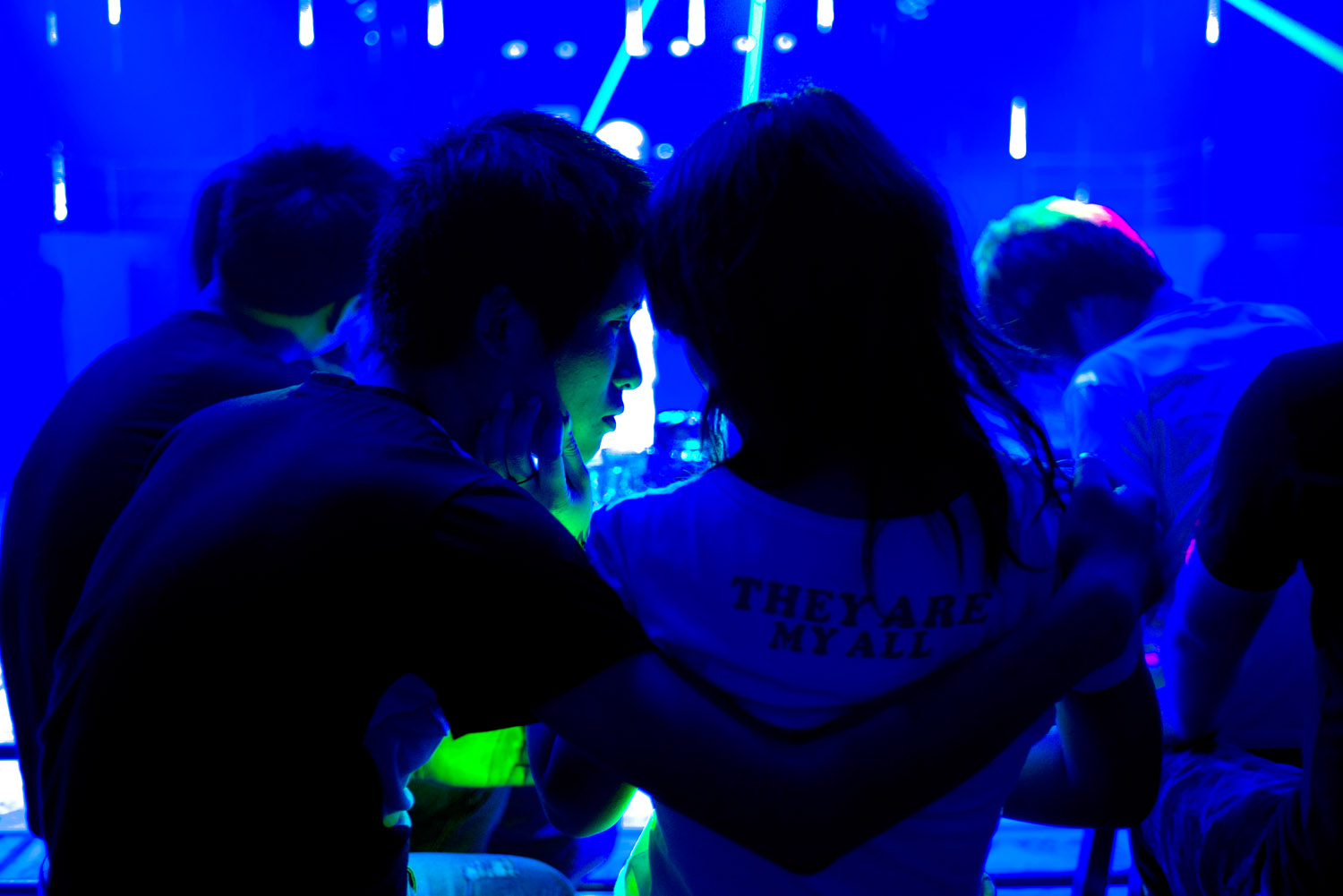 A young couple at a club. Among Foxconn workers many young couples who came to this factory town together, or found romance there. Foxconn dorms have a strictly enforced gender segregation, requiring couples to rent rooms in the city.
A female Foxconn worker, buying a steam bun on her way back to her room at the end of the night shift.